The world is beginning to open up again and you're probably getting close to planning a summer vacation for the first time in over a year and a half.
But if you have a child with special needs related to autism, and sensory processing, then the thought of vacation travel is hell! I know I've been there.
Every hour spent on the road or in an airplane runs the risk of increased meltdowns.
So how do you keep your child calm while meeting sensory needs away from the home? By bringing along on the go sensory activities!
While you can't pack your child's trampoline along with you, you can begin making a sensory tool kit to travel with that includes sensory activities and toys.
After vacating late last year and being on the road for 20 plus hours with a toddler and a four-year-old with autism and sensory processing, I know how hard it can be to avoid meltdowns and meet sensory needs away from home.
I'm not saying your vacation with be a breeze, but it also doesn't have to be stressful when you pack along on the go sensory travel activities.
Disclosure: Bear in mind that some of the links in this post are affiliate links and if you click on them to make a purchase I will earn a commission. Keep in mind that I link these companies and their products because of their quality and not because of the commission I receive from your purchases. The decision is yours, and whether or not you decide to buy something is completely up to you.
Sensory Travel Activities For Long Car Rides
Scented Sensory Putty
Fidget Cube
An infinity fidget cube gives children a chance to calm their minds while fostering creativity and fine motor skills perfect for sensory travel activities!
Cloth Busy Book
Cloth busy books are not just for toddlers. They also come in handy during long car rides for children with special needs. It not only calms meltdowns, but teaches counting, shapes, and strengthens fine motor skills.
Buckle Toy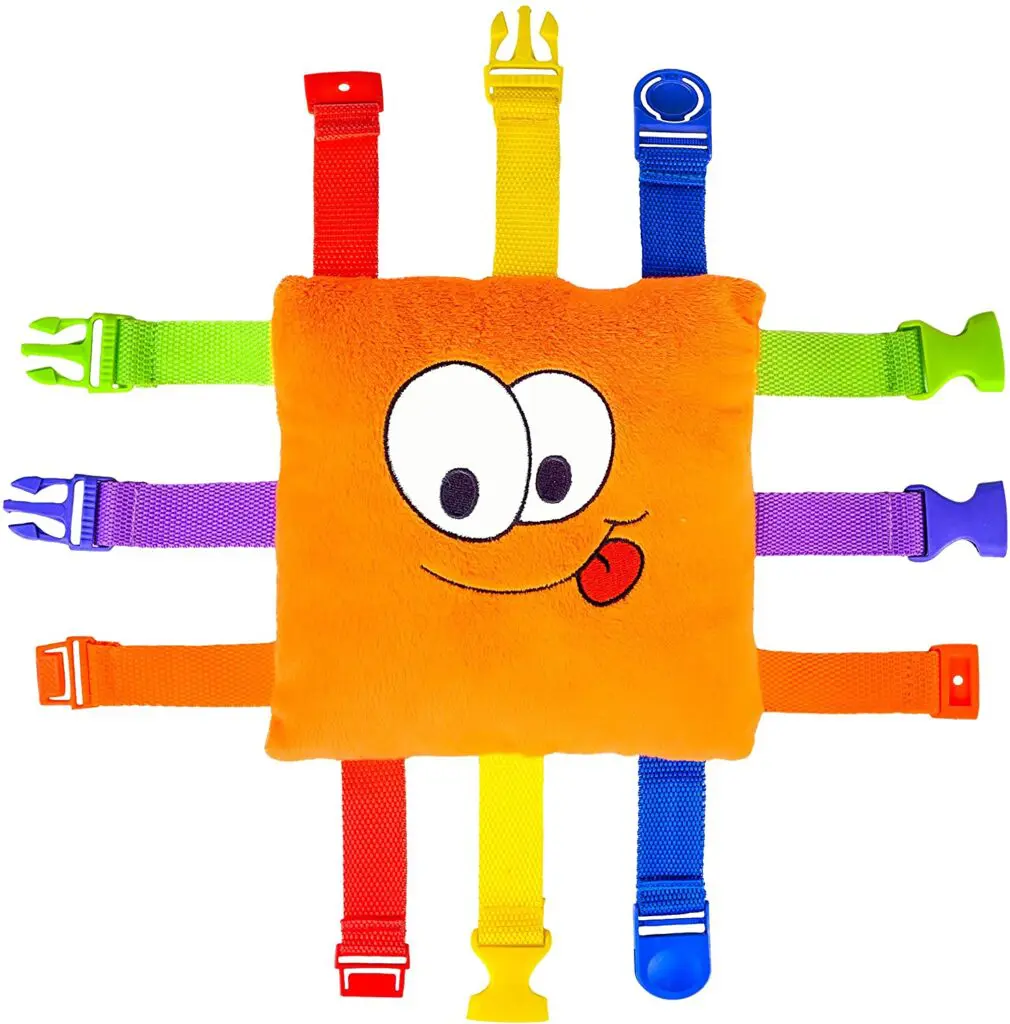 Buckle toys can be tossed into a suitcase or a car sensory tool kit for easy access during long rides. Plus, it doubles as a fidget toy!
Busy Activity Cube
BrainUpToys offers a unique take on fidget cubes. This busy activity cube is sure to activate a child's senses while keeping them entertained.
Pop Tubes
Pop tubes activate both touch and hearing to help provide sensory input and relieve stress. Not only can they twist and turn, but they also make a popping sound as well, which is really satisfying for overwhelmed children.
Weighted Stuffed Animal
Weighted stuffed animals are perfect for travel and are designed to give your child the deep pressure sensation they crave to regulate and calm meltdowns.
I love how stuffed animals are combined with weighted beads now for children because you get all the advantages of a weighted blanket, yet the stuffed animal provides a comfort factor for children.
Sensory Rain Stick
No, they are not just for babies! This ocean themed sensory bottle is filled with blue rice and 11 custom made resin seashells and 2 seahorses to activate three senses at once: visual, auditory, and tactile.
You can find sensory items like this one on the Pitter Patter of Baby Feet Etsy Shop.
Light Up Spinning Wand
Light up spinning wands are mesmerizing to watch and help children activate mainly the visual sense.
While these are a great sensory toy for travel, I highly recommend if you are travelling at night to hide it! It does become very distracting for the driver!
Touch and Feel Books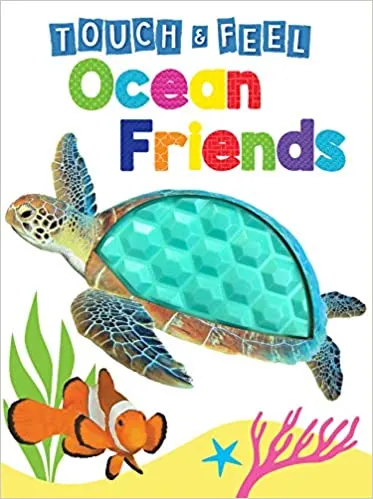 Many people tend to think touch and feel books are only for children under 1. But I (respectfully) disagree!
Touch and feel books are an incredible learning tool for children of all ages. It not only let's them read and learn new concepts, but engages the tactile sensation as well.
For children with autism they may help them understand the book better when they can see and touch the pictures with textures, even if he/she can read or not!
Chew Necklaces
If you have a sensory kid who loves to chew on anything and everything, then chew necklaces are a must!
They're small and very portable! I actually use my son's chew necklaces for a dual purpose. I made and laminated a small card with his name and his diagnosis of nonverbal autism for safety purposes. It also informs anyone who has contact with him that he does not respond to his name or commands, resists help, and will run away.
Be aware that chew necklaces have a rating system! So if your child is a heavy chewer you need to find necklaces that will hold up to heavy chewing like THESE ONES!
Push Pop Fidget Toys
Push Pop fidget toys come in all shapes and sizes imaginable! They provide both a tactile and auditory sensation for children.
Maze Sphere
Does your child love to solve problems? Then this maze sphere is sure to activate your child's sense of curiosity!
Maze sphere's come with different difficulty levels to fit every child and provide hours of entertainment for long car rides on your next vacation!
LCD Doodle Pad
Sensory travel activities like LCD doodle pads give your child a waterproof and fall proof surface to activate their imagination.
Magnetic Mazes
Amazingly, magnetic mazes are quite portable! I've stacked them on the floor board of my mini van within reach and at the bottom of my son's suitcase.
There are so many options for magnetic mazes to fit every child's age and interests. While I believe all are portable for sensory travel activities, there are smaller sizes.
Look and Find Bottles
Many look and find bottles are suggested for children 8 years old and up due to small pieces and difficulty level. They also come with themed small objects and a checklist to mark off each one your child finds.
Look and find bottles do get expensive and contain tiny pieces that pose a choking hazard for small children. However, there is no reason you can't DIY one! Simply fill an clear plastic bottle with a filler (sand, crumbed paper, seed beads, etc.), then fill with small themed object of your choice!
Final Thoughts
I'm not saying traveling with children, especially children with special needs is easy, but it can be done!
Sensory travel activities provide a portable sensory experience for your child to help calm and ease anxiety while away from home.
Travelling in general comes with stress. For children with disorders like sensory processing and autism it's difficult to adjust to new surrounding, people, and being away from a familiar place like home.
Thankfully, you can take sensory activities on the go to help your child transition from one place or activity to another and ease their anxiety all at once!