Happy Valentine's Day! This holiday is all about love.
What's a better way to celebrate this lovely holiday then with a fun themed edible slime recipe!
My kiddos are slime obsessed! Instead of basic slimes, we're going all out this year with special themed slime recipes to entertain my own kids as well as yours!
There's nothing better than teaching children about the holidays than combining a sensory experience and the most loving day of the year with this buttery Valentine's Day slime recipe.
Best of all it's taste-safe!
Disclosure: Bear in mind that some of the links in this post are affiliate links and if you click on them to make a purchase I will earn a commission. Keep in mind that I link these companies and their products because of their quality and not because of the commission I receive from your purchases. The decision is yours, and whether or not you decide to buy something is completely up to you.
How To Make A Valentine's Day Slime Recipe
To make this edible slime recipe, start by gathering your ingredients.
Many of these ingredients you probably already have in your kitchen!
Use the following ingredients:
Powdered sugar
White frosting (pre-made)
Coconut oil (optional)
This edible slime combines powdered sugar and premade white frosting that smells sugary delicious!
While you don't want your children consuming a ton of sugar, it is taste safe for children who still tend to mouth objects.
There are many different types of slime recipes available that will give you different textures.
This edible slime will give you a soft and smooth texture just like butter.
Steps To Make The Edible Valentine's Day Slime Recipe
Step 1
Grab a mixing bowl and combine half of the premade frosting with 1 cup of powdered sugar.
I highly suggest a wooden spoon or very sturdy silicone spoon.
Mix well. The powdered sugar will begin to clump with the frosting and eventually you will need to use your hands to make sure they are combined well.
At this point you should be getting a smooth texture of slime that stick together and can form a ball in your hand.
Step 2
Use a cutting board and flatten the slime out with your hand.
Squeeze a small amount neon food coloring directly onto the slime.
Fold the slime over and over until the food coloring is mixed well and the entire slime is pink in color.
Now you can decide on how much neon coloring you want in the slime.
That's why I choose to use white frosting so I could get a true neon pink color instead of a pastel.
However, instead of white frosting you can substitute it with pink frosting and skip the neon pink food coloring to eliminate one step in this slime making process.
Step 3:
To make the buttery texture smoother I added a tablespoon of cold-pressed coconut oil to the slime.
This gave it a smoother less sticky texture.
Of course, adding the coconut oil is optional! So, if you like the texture of the butter slime, then you can skip this step.
Step 4:
Once you are satisfied with the neon color of the Valentine's Day slime recipe grab the candied heart sprinkles and fold them into the slime.
Step 5:
Have your kids immerse themselves in this slime sensory experience!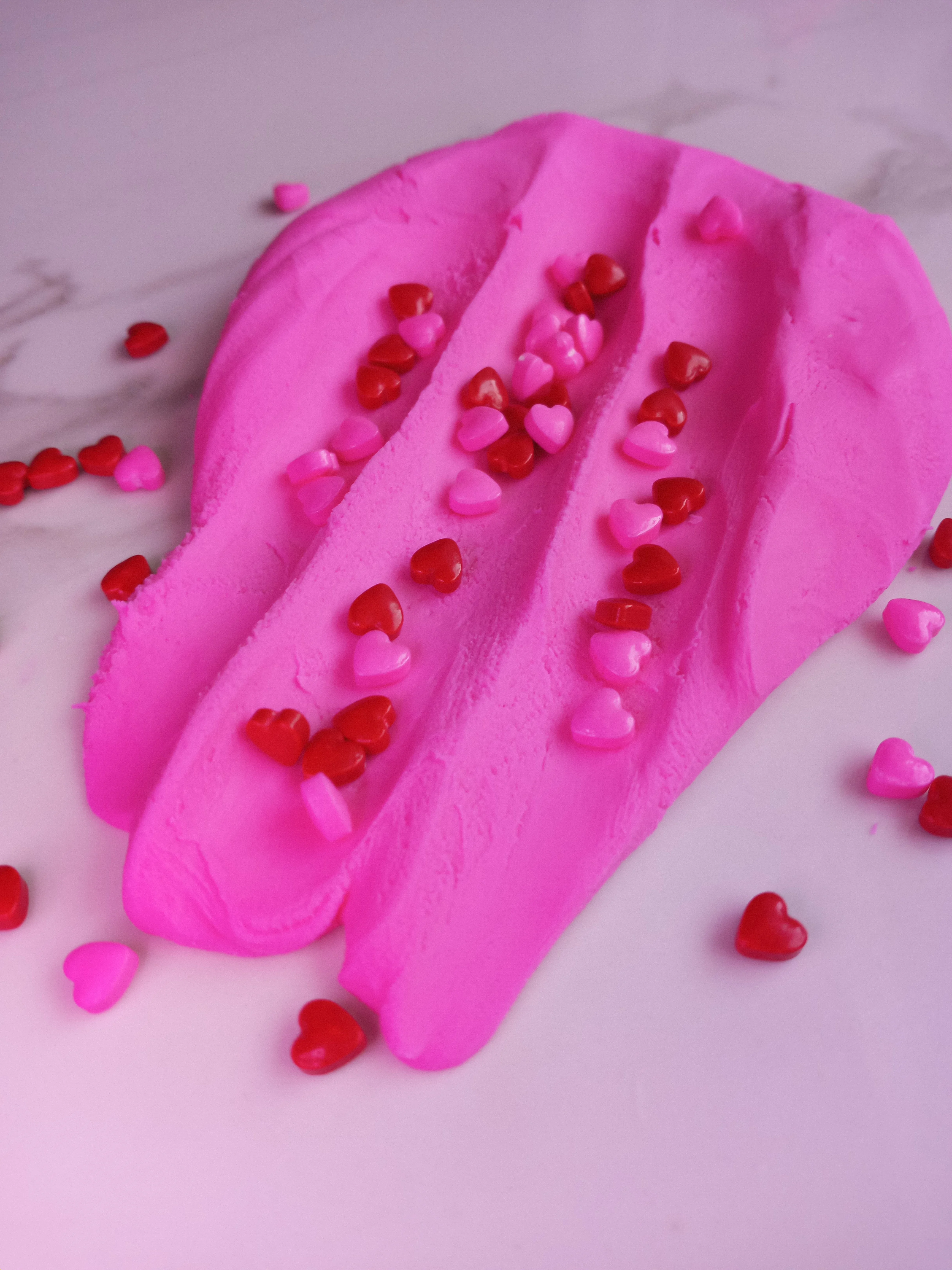 Yield:

1 slime
Taste-Safe Valentine's Day Slime Recipe
A taste-safe Valentine's Day slime recipe for fun sensory experience for children two years and up.
Ingredients
1 to 1 1/2 cups powdered sugar
1/2 tub of white premade frosting
Neon pink food coloring
Heart shaped candied sprinkles
Instructions
1. Combine in a mixing bowl half of the tub of frosting with powered sugar and mix well until the slime forms a ball.
2. Transfer slime to a cutting board and flatten it out.
3. Fold in neon pink food coloring in small amounts.
4. Mix until color is distributed throughout the slime.
5. Fold in candied heart shaped sprinkles.
6. Play and have fun.
Notes
You can substute white frosting for pink colored frosting and skip the step of adding the neon food coloring.