Oh, delicious s'mores! There's nothing that reminds us more of campfires and camping than graham crackers, chocolate, and marshmallows.
Sometimes though you get a craving for s'mores and don't have access to an open fire.
Now you don't have to ignore your cravings for s'mores!
This Crescent roll s'mores recipe is not an easy indoor substitution, but kids love it!
Are ready to try mouthwatering s'mores baked indoors?!
Disclosure: Bear in mind that some of the links in this post are affiliate links and if you click on them to make a purchase I will earn a commission. Keep in mind that I link these companies and their products because of their quality and not because of the commission I receive from your purchases. The decision is yours, and whether or not you decide to buy something is completely up to you.
Crescent Roll S'mores Recipe
To begin this recipe, gather up your necessary ingredients to make delicious indoor s'mores! You will need the following…
Crescent roll s'mores ingredients:
1 package of Crescent rolls

Milk or dark chocolate chips

Mini marshmallows

Graham crackers

Marshmallow fluff

Tablespoon of butter
I found it best to separate each of the Crescent triangles and flatten them a little. You want to get the most chocolate and marshmallows stuffed in as you can.
The more chocolate and marshmallows the better!
While this recipe is a breeze to make, I will walk you through the steps anyway!
Steps To Making Crescent Roll S'mores
Step 1:
Gather all your ingredients together and get ready to prep.
Start by grabbing parchment paper and laying it flat on the baking sheet. Then, open the Crescent rolls and separate them into individual triangles.
Feel free to flatten and stretch them a little if you need to!
Step 2:
Unpackage the Graham crackers and split them into small rectangles. Place a Graham cracker on the largest portion or top of the Crescent dough.
Step 3:
Add your chocolate chips. I added at least 4, but I would suggest 6 plus chocolate chips for extra runny chocolate!
Step 4:
Add the marshmallows. The best ingredient in my opinion!
I only did four mini marshmallows. I highly suggest adding more.
While I could taste the marshmallows in the roll-up, I still would have preferred much more!
So my suggestion is to fit in as many mini marshmallows as you can!
Step 5:
Time to roll them up! This step is a little difficult because of the number of ingredients you have to roll up.
The Best way I found to do this was to first take the corners (at the top of the triangle) and fold them in.
Then, roll all the ingredients into the dough.
But make sure all the ingredients are enclosed in the Crescent roll dough with no gaps.
This will prevent any of the chocolate and marshmallows from leaking out.
Step 6:
Melt a tablespoon of butter in a microwave-safe dish for 15-20 seconds. Then, use a brush to coat the tops of the Crescent rolls.
This will give a buttery, crisp finish!
Step 7:
Next, place them in the oven at 350 F and bake for 10 minutes.
Step 8:
Wait for the rolls to cool down first, then…
Melt chocolate chips in a microwave bowl until fully melted. It's best to melt chocolate chips in 15 to 20-minute intervals, stopping to stir the chocolate to prevent burning.
Now, use a spoon to stir the chocolate and drizzle it on top of the Cresent s'mores rolls.
Step 9:
Open the jar of marshmallow fluff and drizzle (or drag the spoon) across the top of the Cresent rolls.
If you're looking for more kid-friendly and easy dinner ideas, check out my article Quick And Easy Dinner Ideas For Kids
Final Thoughts About This Crescent Roll S'mores Recipe
This Crescent roll s'mores recipe was a huge success in my house!
No sooner were they out of the oven and drizzled with marshmallow fluff and chocolate than my two kids and husband were begging to try them.
They even asked me to make more even though they ate all of them!
I didn't have the energy to make another batch, especially if the kids didn't have dinner first.
After all this Crescent rolls s'mores recipe makes for an excellent and easy dessert!
Give this recipe a try and see if it's a hit with your family! Now you don't have to get a campfire or bonfire to enjoy delicious s'mores.
Just open Cresent rolls and start adding in chocolate, marshmallows, and Graham crackers!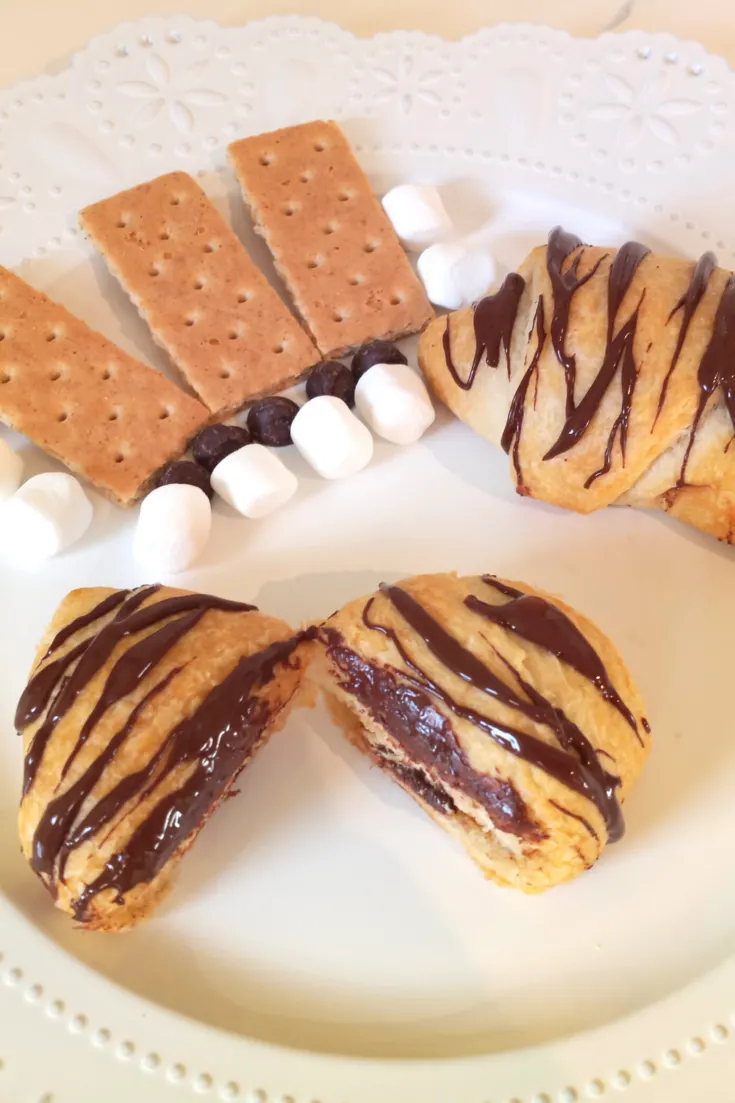 Yield:

8 rolls
Crescent Roll S'mores
Additional Time:
15 minutes
This Cresent roll s'mores recipe is not only delicious, but super easy and kid-friendly!
Ingredients
-1 package of Crescent rolls
-Chocolate chips (semi-sweet or dark chocolate)
-1 package of Mini marshmallows
-1 jar of marshmallow fluff
-Graham crackers
Instructions
Unroll the Crescent rolls and split into triangles
Separate and place one rectangle Graham crackers at the widest section of the triangle
Add chocolate chips
Add mini marshmallows
Fold in the sides and roll up the dough
Melt butter and brush on the top of the Crescent rolls
Bake at 350 F for 10 minutes
Melt chocolate chips and drizzle the chocolate over the cooled Crescent rolls
Drizzle marshmallow fluff over the Crescent rolls
Enjoy!
Notes
You can add in as many chocolate chips and mini marshmallows you want! I highly suggest before baking to make sure there are no "gaps" for chocolate and marshmallows to escape while baking.