Since learning of my son's diagnosis of autism spectrum disorder, I'm trying to find ways to make life easier and happier for him.
Although I'm finding managing his symptoms of autism and sensory processing disorder to be challenging, there are things I am adding to my home to help.
Now I'm on the hunt for products to create a sensory room to promote a sense of calmness, fascination, and discovery for my son.
If you have a child with autism or sensory processing disorder, creating a space to calm down meltdowns is a must!
Here are some amazing ideas and products for any sensory room!
Disclosure: Bear in mind that some of the links in this post are affiliate links and if you click on them to make a purchase I will earn a commission. Keep in mind that I link these companies and their products because of their quality and not because of the commission I receive from your purchases. The decision is yours, and whether or not you decide to buy something is completely up to you.
What Is A Sensory Room?
A sensory room is a specific room dedicated to activating multiple senses simultaneously.
Sensory rooms serve the purpose of helping an individual learn to regulate external sensory stimuli.
By immersing an individual with different sensory input at once, it reduces negative reactions to stimuli overtime.
Sensory rooms are often seen in schools, mental health organizations, nursing homes and clinics.
Now, parents are designing sensory rooms specific to their child right inside their home!
Your child may need a sensory room if:
He/she has sensitivities to loud noises, lights or certain textures
Does not have access to a sensory room at school or a clinic
Has developmental challenges causing problems with communication, social skills, balance, and movement
Becomes easily overwhelmed and his/her own space to calm down
What Are The Benefits Of A Sensory Room?
Sensory rooms and sensory room products have the following benefits to individuals with sensory processing disorder and autism:
Provides a calming effect
Immerses a child with multiple sense stimulation
Helps with socialization
Increases focus and attention span
Helps develop fine and gross motor skills
Increases cognitive development
Increases sensory development
Sensory Room Products
This is the one my son has and it's a major hit in our house!
The best part about ball pits is they're foldable and can be easily stored away. This is perfect for small houses!
I have 200 ball pit balls, but sometimes only empty half that amount into the ball pit and my kiddo is perfectly happy.
By far, a weighted blanket is the B.E.S.T investment I've made toward my son's sensory room products.
Although the blanket gets carried from his room to the living room all the time, I'm amazed at how well the weighted blanket calms him down during meltdowns.
He now uses it throughout the day when he's feeling overwhelmed by sensory stimuli around him, while rocking (stimming), and while reading in his sensory room.
Therapy swings are perfect for calming anxious or overwhelmed children.
Think of it like a soothing hug that provides gentle compression to block out sensory stimulation.
Therapy swings are also beneficial for strengthening the head, neck, and core muscles to improve balance, concentration, and body awareness.
Balancing steps or "stones" are perfect for aiding balance and coordination. The steps can be arranged in a variety of ways and are stackable to easily store away in a closet.
They are also great for increasing focus and concentration!
Yoga balls are amazing for providing deep pressure to aid concentration and relaxation.
Your child can simply sit and bounce on the yoga ball or turn the ball sideways and roll over the top of the ball on their stomach.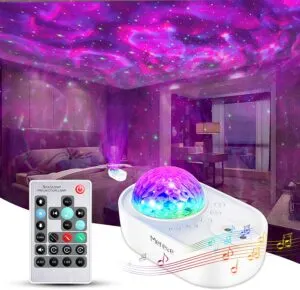 A light projector displays calming scenery onto ceilings and walls.
They are perfect sensory rooms because many also produce calming music and automated timers.
There are many options for light projects to display different scenery light ocean animals, galaxies and more!
You can find different varieties of light projectors for your child's sensory room HERE!
Bubble tubes are a fascinating addition to any sensory room.
It provides a sense of calm by using bubbles and fake fish, so no fish food or water maintenance required.
Bubbles tubes are available in a variety of colors and sizes.
These liquid floor tiles provide a soothing cause and effect. Whenever pressure is applied to them, the liquid moves.
Each tile has anti-slip backing to be used on hardwood, tile or carpet flooring.
An inflatable peapod applies deep touch pressure to relieve anxiety and sensory overload and provide your child a sense of security.
If your child stims by rocking, this is the perfect addition to a sensory room because the peapod can rock back and forth for vestibular input.
A body sock is another sensory room product that provides a calming effect when your child needs it the most.
It's made of breathable and stretchy material that can be worn even while sleeping.
A body sock also promotes…
Self-calming
Balance
Body awareness
Imaginative play
Visual and motor coordination
Although it's a simple and inexpensive, a fiber optic lamp provides a calming visual sensory experience for any sensory room.
Mirrors don't provide a calming sensation for your child.
However, I feel mirrors can help a child with autism understand his/her own facial expressions, emotions, and the way his/her mouth formulates sounds.
If you have a sensory seeking child, then you need a crashpad for a sensory room.
This crashpad can be used as a way to release built up energy by running and free falling into it.
But it can also be used as a beanbag chair or lounger for relaxing.
Instead of buying a crashpad, you can always make your own as well.
Simply take a queen or king sized duvet cover and stuff it with extra pillows and stuffed animals.
I did this and it works amazingly!
This indoor gym brings the park right to your child's sensory room.
+-Each of the climbing and swinging additions are able to be held by a door frame opening to any sensory room.
It's perfect for any child craving sensory stimulation!
This spin climb saucer is suitable for children under the age of five and allows a child to indulge in the sensory sensations of rocking, spinning, climbing, and jumping.
Sensory boards are not just for babies. They teach valuable everyday fine motor skills to children with developmental delays.
If you're not the creative type to make your own sensory board, you can always buy one in a decent prize range that's right for activities your child would like.
Some sensory boards can be wall mounted or placed on the floor whenever your child wants to play.
Final Thoughts About Sensory Room Products
A sensory room and sensory room products are a welcome addition to any home!
Whether your child is a sensory seeker, sensory avoider, or on the autism spectrum, he/she can benefit from sensory stimulation.
Since my son's autism diagnosis, I'm slowly finding and adding sensory room products to his bedroom to completely immerse him in a multi sensory experience.
He has trouble with certain textures and certain noises along with (almost daily) meltdowns.
I've noticed significant improvement in how he handles his emotions, energy level and how quickly he get's over his meltdowns now.
Out of all the list above, the two products that have been the most beneficial is the ball pit, crashpad, and weighted blanket.
Just like you, I'm looking for anything that will make my autistic son's life easier while managing the symptoms of autism.
Hopefully, your child will enjoy one or all of these 16 sensory room products!
Works Cited