One of the best things about pregnancy is designing a nursery.
Whether you're having a boy or a girl, the possibilities for nursery decor are endless. The baby blues, the frilly pink decor…
But, what if you don't want the standard pink or blue nursery?
Thankfully, there are many nursery decor options that are gender neutral.
When I was choosing a nursery decor theme, I knew I had to go with Disney.
It was a simple choice, as I'm a huge Disney fan. But, Disney has a ton of character choices. So what character or theme do you pick?
Gender neutral nursery decor came to mind simply because I wanted to stick with the same theme for a second baby. Even if my second baby ends up being a girl.
So I began my tedious search of narrowing down Disney nursery decor's that could be used for a girl or boy.
If you're wanting to have a Disney inspired nursery décor, look no further!
Here are the 4 best options for a gender neutral nursery inspired by Disney!
Disclosure: Bear in mind that some of the links in this post are affiliate links and if you click on them to make a purchase I will earn a commission. Keep in mind that I link these companies and their products because of their quality and not because of the commission I receive from your purchases. The decision is yours, and whether or not you decide to buy something is completely up to you.
Disney Gender Neutral Decor
Option 1: Dumbo
A beloved Disney classic from 1941. Dumbo is the story of a baby elephant who doesn't fit into the circus life because of his extra-large ears.
But to the surprise of everyone, Dumbo is able to fly with his ears.
The story of Dumbo teaches us that the love between a mother and child is unconditional. This makes for a perfect nursery theme for your new addition!
Dumbo also teaches children two important life lesson's:
–Your differences or flaws make you unique.
-Friendship is often found in the unlikeliest of people (like an elephant and a mouse).
There are two different gender neutral nursery collections for Disney's Dumbo.
For this gender neutral nursery decor you can also add other nursery decor like:
–Matching Breathable Mesh Crib Liner
Option 2: Winnie the Pooh
Of all the Disney inspired gender neutral nursery decor's, Winnie the Pooh has the most history. Starting as a book in 1924, Disney received ownership rights to Winnie the Pooh in 1961.
From there, Pooh and his loveable friends have found their way into homes everywhere through books, movies, stuffed animals and nursery decor. "Oh, bother."
From Pooh and friends in The Hundred Acre Woods, children are taught:
–Friendship is to be cherished.
-To always see the positive in every situation.
-To be patient with others because you don't know what they are going through at the time.
-Sometimes the best way to solve a problem is not with intelligence, but common sense.
Just like the Dumbo nursery decor, Winnie the Pooh also has two collections.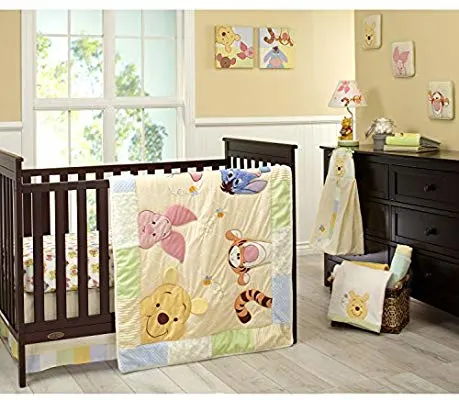 This is a great gender neutral nursery decor with many options to choose from.
Winnie the Peeking Pooh collection is a 7 piece bedding set that comes with 3 wall decor, 1 comforter, 2 crib sheets and 1 dust ruffle.
Winnie the Peeking Pooh is perfect for a boy or girl because of its primary color of creme/off-white with accents of pastel green and blue.
Although the collection is named after Winnie the Pooh, he is not the only character featured in the bedding collection. On the comforter, Pooh is with his best friends Roo, Eeyore, Tigger and Piglet.
Other accessories to complete your gender neutral nursery decor for Peeking Pooh are:
This bedding collection comes with 4 pieces: a dust ruffle, a comforter, a fitted sheet and a diaper stacker.
There are not many accessories to go with this gender neutral nursery decor except a fitted sheet.
However, some items from the Peeking Pooh nursery collection could be combined with the My Friend Pooh collection.
The My Friend Pooh collection is the classic version of Winnie the Pooh you see in the original books by A. A. Milne.
This collection is perfect if you favor less nursery decor and prefer the classic stories of Winnie the Pooh and The Hundred Acre Woods.
Related Articles: 15 Nursery Hacks For Small Spaces
Option 3: The Lion King
"In the jungle, the mighty jungle, the lion sleeps tonight."
The Lion King is a Disney movie for the ages. It has stood the test of time because it has incredible music, lovable characters and even the heartbreaking death scene of Mufasa. NOOOOO!
From its 1994 release, The Lion King was the first Disney animated movie that was an original story. Which makes it even better!
The Lion King teaches children (and Disney loving adults) that:
–You shouldn't dwell on the past ("you gotta put your past behind you").
-Sometimes in life you just have to say Hakuna Matata (it means no worries).
-You need to remember who you are.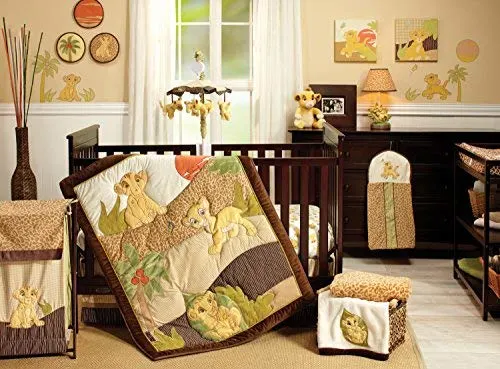 This bedding collection is by far the most complete collection for gender neutral nursery decor. Simba's Wild Adventure includes 1 comforter, 2 fitted sheets, 1 dust ruffle and 3 hanging wall decor.
Along with 7 piece's in one set, Simba's Wild Adventure has a long list of accessory decor to complete the entire collection.
This gender neutral nursery decor is perfect if you love animal print or want your nursery to have an African savanna feel to it.
But, no worries if it's not right for you and baby. Disney has a Lion King collection that's more modern.
This bedding set consists of more muted colors of off-white and gray with an African pattern. The 3 piece set includes a dust ruffle, a fitted sheet and a comforter with Simba and Nala.
The Circle Of Life gender neutral nursery decor is perfect if you want a primary color of grey with subtle hints of color mixed in.
If you are taking the minimalist approach to nursery decor, this collection is for you!
Option 4: Finding Nemo
I saved the best for last! Finding Nemo is what I used in my own son's nursery, so I'm a little partial to it.
When it came time to pick a nursery theme, I wanted a Disney theme that was gender neutral. From there I narrowed down my options and chose Finding Nemo because I loved the teal colors and ocean theme.
Finding Nemo came out in 2003 from the collaborative genius of Pixar and Disney.
The movie won an Academy Award for Best Animated Feature and Best Original Screenplay. Like The Lion King, it is an original storyline.
The story follows Marlin and Dory across the big blue ocean to rescue his son Nemo ("shark bait, hoo ha ha"). They meet plenty of sea life along the way including sharks and sea turtles.
Finding Nemo teaches children valuable lessons that include:
-You don't know what you've lost till it's gone.
-You need to face your fears to go after something you love.
-Friends are often found when you least except them.
-When life get's you down, you got to keep going. ("Just keep swimming, swimming, swimming…").
This gender neutral nursery decor includes a dust ruffle, 1 comforter with Nemo and Squirt, a diaper stacker and a fitted sheet.
To match the Finding Nemo gender neutral nursery decor for my nursery, my husband painted the room teal. We then added a unique white crib and a white dresser.
Almost 2 years later and my son's nursery is still my favorite room in the house.
With this Finding Nemo 4 piece set you can also add other nursery decor like:
Instead of buying the traditional padded Finding Nemo crib bumpers, I found breathable mesh bumpers that matched the teal and white decor.
Final Thoughts
When preparing a nursery for your upcoming baby, a gender neutral nursery decor might be the perfect option for you and baby.
Not only do you save money by not having to buy another nursery decor set, but the pastel colors are sometimes more pleasing to the eye.
I absolutely love my Finding Nemo nursery and so does my son. As he's getting older though he's loving other Disney characters like Puppy Dog Pals and Mickey Mouse and the clubhouse gang.
So now the nursery has a touch of Mickey and Puppy Dog Pals mixed in with Finding Nemo.
Whatever your style is, these 4 Disney gender neutral nursery decor theme's are sure to inspire you. Whether you're a minimalist and prefer less nursery decor or like to go all out with the full collection…
There's something to fit everyone when it comes to gender neutral nursery decor!
Which gender neutral nursery decor is your favorite?
Works Cited
20 Life Lessons We Learned From The Lion King On Its 20th Birthday
5 Of The Best Life Lessons We Learned From Winnie the Pooh
28 Lessons Winnie the Pooh Can Teach You About Life