Touch and feel books provide many children with their first encounter of exploring different textures.
Letting your child explore new textures not only brightens their imagination, they also…
-Begin to learn word association between a specific texture and a word
-Increase early vocabulary skills
-Activate multiple senses at once including seeing, touching, and hearing
-Boosts fine motor skills by turning pages, lifting flaps, and more
Many people use touch and feel books for introducing textures to babies.
But these books are not just for babies! Older children including preschool age and children with special needs and developmental delays can benefits from touch and feel books.
Here's how to get the most out of touch and feel books and the must have books for your child's bookshelf!
Disclosure: Bear in mind that some of the links in this post are affiliate links and if you click on them to make a purchase I will earn a commission. Keep in mind that I link these companies and their products because of their quality and not because of the commission I receive from your purchases. The decision is yours, and whether or not you decide to buy something is completely up to you.
How To Get The Most Out Of Touch And Feel Books
These type of books are excellent for an everyday sensory experience for babies, toddlers, preschoolers, and even kindergartners. But for younger children you can go beyond reading word for word and instead increase your child's early development.
Tips for increasing early development with touch and feel books:
When touching each texture, enhance your child's vocabulary by describing the texture. Example: "This texture is rough and bumpy."
Instruct and show your child on how to touch the textures. Example: "We pet the puppy gently."
Allow your child to turn the pages to build fine motor skills.
Must Have Touch And Feel Books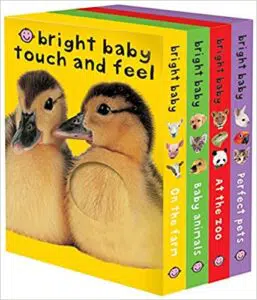 This set of 4 books introduces your child to the animal world.
They can explore and pet each animal including animals on the farm, baby animals, zoo animals, and pets.
Moody Monsters combines different patterns made of silicone to help your child learn and understand their big emotions like anger, sadness, and happiness.
This crinkle and fabric book is perfect for babies under 1.
The book explores textures with animal tails and uses early word recognition for identifying animals.
The touch and feel book also activates babies hearing with crinkle sounds.
It's easily washable and attaches to strollers, diaper bags, and more.
Touch! My Big Touch-And-Feel Word Book teaches word association with over 150 everyday objects including food, clothes, and vehicles. It's also paired with 30 different textures for increased interaction.
Noisy Animals is suitable for children 3 and up, this books contains animal facts, textures, and sounds to teach early education and nature conservation.
This book adds dimension and touch textures to your child's reading experience. Baby will learn the different colors of the world, shapes, and how they are found in everyday recognizable objects.
Backyard Bugs is perfect for any child who might feel bugs are icky and scary.
Turn each page and explore silicone textures of different bugs.
Have a child who is a picky eater? Introduce them to Superhero Foods!
Superhero Foods let's children explore their sense of touch while learning how fruits and vegetables fuel their bodies.
My First Busy Book will teach your baby or toddler about counting and number recognition, animal sounds, and colors.
It also pairs different textures with lift flaps to enhance fine motor skills and a mirror for visual stimulation.
Happy Birthday is a touch and feel book that focuses on all the different textures and fun associated with birthday parties like cupcakes, party hats, and presents.
Chores Galore uses silicone textures to teach toddlers and preschoolers the lifelong skill of responsibility and picking up after yourself.
Final Thoughts About Touch And Feel Books
Touch and feel books are amazing for giving children an engaging experience with reading.
They increase a child's attention while simultaneously teaching children early education, fine motor skills, and fuels a love for learning!
Grab these touch and feel books today to add to your child's bookshelf!
Works Cited