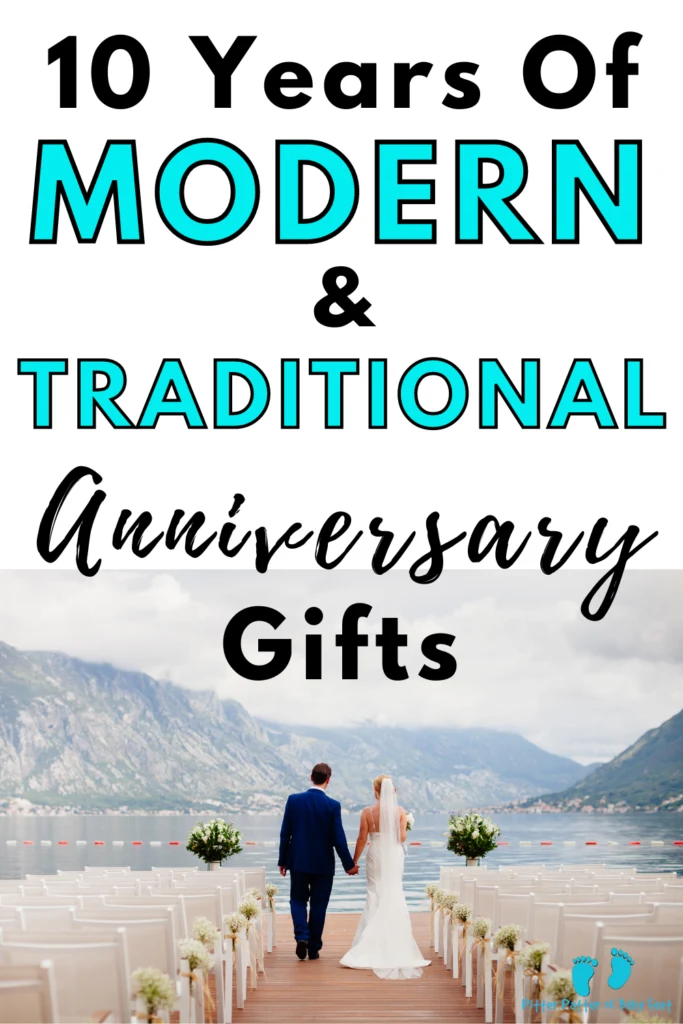 No matter of it's your first or your 10th anniversary, it's something to celebrate.
Your anniversary is the day you married the love of your life, your best friends.
An anniversary is all about remembering you wedding day and the vows of love and marriage you dedicated to each other.
But if you're like me, you may have troubles thinking of a gift for your spouse.
I have this problem every year! What do I buy my best friend and partner in life to tell and show him how much I love him?
It's not easy buying an anniversary gift. Thankfully, this article is mixed with both traditional and modern gift ideas for your husband.
For the first 10 years of marriage I got you covered! Here are traditional and modern anniversary gifts for your first year to your tenth year of marriage!
Disclosure: Bear in mind that some of the links in this post are affiliate links and if you click on them to make a purchase I will earn a commission. Keep in mind that I link these companies and their products because of their quality and not because of the commission I receive from your purchases. The decision is yours, and whether or not you decide to buy something is completely up to you.
Anniversary Gifts For Each Year
1st Anniversary- Paper/Clocks
For a first anniversary, the traditional gift is paper.
While paper sounds like a lousy gift for your spouse, there's actually an enduring symbolism behind it.
Paper symbolizes three things:
It symbolizes your marriage started one year ago.
Your marriage is starting with a "clean sheet."
Paper is also easy to destroy… Meaning your marriage is still fragile and hasn't stood the test of time YET!
For your first anniversary, be creative with a traditional paper gift. Buy your spouse concert tickets, customized stationary, etc.
However, if you don't like the gift idea of paper altogether, the modern gift equivalent is a clock.
Here's some great first year anniversary gifts!

2nd Anniversary- Cotton/China
Traditionally, cotton is given as a second anniversary gift.
It represents how you and your spouse are starting to "twine" together and become stronger with time. Cotton also symbolizes flexibility and strength within your marriage.
If you would like a modern twist on plain old cotton, try giving China instead!

3rd Anniversary- Leather/Crystal Or Glass
A third anniversary is celebrated by giving leather as a traditional gift. A gift of leather represents security and shelter.
A modern take on leather as a traditional gift is crystal or glass.
Whichever you choose, your husband will appreciate the sentiment behind your gift!

4th Anniversary- Fruits Or Flowers/Appliances
As your marriage has continued to grow over the course of four years its begun to bear fruit or flourish, just like fruit and flowers.
A gift of fruit and flowers doesn't seem that exciting, but you could always gift your husband a fruit basket or gardening tools.
Or take a romantic spin on things by getting him a flower scented candle perfect for a romantic candlelit dinner for two!
If you don't like giving a gift of fruit or flowers, try a modern twist of giving an appliance.

5th Anniversary- Wood/Silverware
For a 5th anniversary gift, wood is traditionally given. The wood from trees symbolizes wisdom, strength and the test of time.
By the 5th year, your marriage has planted roots built on strength mixed with time.
Instead of wood, silverware is also an acceptable modern gift.

6th Anniversary- Iron/Wood
When you think of iron, you think of strength! Throughout the six years of marriage you relationship's become as strong as iron.
There are many anniversary gift options for iron.
But if you don't want to give iron as a gift, the modern equivalent is wood.
7th Anniversary- Copper/Desk Sets
Since the traditional gift for the sixth year was iron, the next stronger metal than iron is copper.
Copper represents that your marriage is even stronger than the year before.
A modern twist on copper as an anniversary gift is a desk set.

8th Anniversary- Bronze/Linen Or Lace
Again, bronze is the next stronger metal than copper.
Bronze symbolizes even more strength in your marriage than before because it's made of copper and tin.
An alternative to bronze is the modern gift of linen or lace.

9th Anniversary- Pottery/Leather
For your ninth, a traditional gift of pottery is given. The beauty of pottery starts first with a lump of clay.
Then it's delicately formed and molded. It is then put through the furnace.
A lot of time, care and delicateness goes into making pottery just like your marriage over the past nine years.
A modern gift for your 9th year is the gift of leather.

10th Anniversary- Aluminum/Diamond Jewelry
Ten years of marriage is a decade of strength, commitment and love. This anniversary is a huge milestone!
Traditionally, aluminum is given as an anniversary gift while the modern equivalent is diamond jewelry.
Aluminum symbolizes:
Flexibility- After ten years, both you and your spouse have adapted to both good and bad life situations together.
Durability- Your marriage has stood the test of time and remains "durable" throughout tough times.


Final Thoughts
In the famous words of Mignon McLaughlin, "A successful marriage requires falling in love many times, always with the same person."
Whether it's your first anniversary with your husband or your tenth, you both have grown in your marriage over the years… And this requires you to fall in love with each other many times.
I feel marriage is something that's never easy.
Financial matters, children and other life situations can put strain on a marriage.
Pulling through those life stressors takes strength, patience and compromise from you and your spouse.
It can be tough to find a gift each year that symbolizes your love and commitment for someone.
With this list of 10 anniversary gifts, you can stick to a traditional gift or buy a more modern gift depending on your husband's taste.
Happy anniversary! Too many more years together!
"Love recognizes no barriers. It jumps hurdles, leaps fences, penetrates walls to arrive at its destination full of hope."

Maya Angelou
Works Cited
100 Inspiring quotes on love and marriage
Wedding anniversary meanings: traditional gifts 1st to 90th anniversary and gift ideas