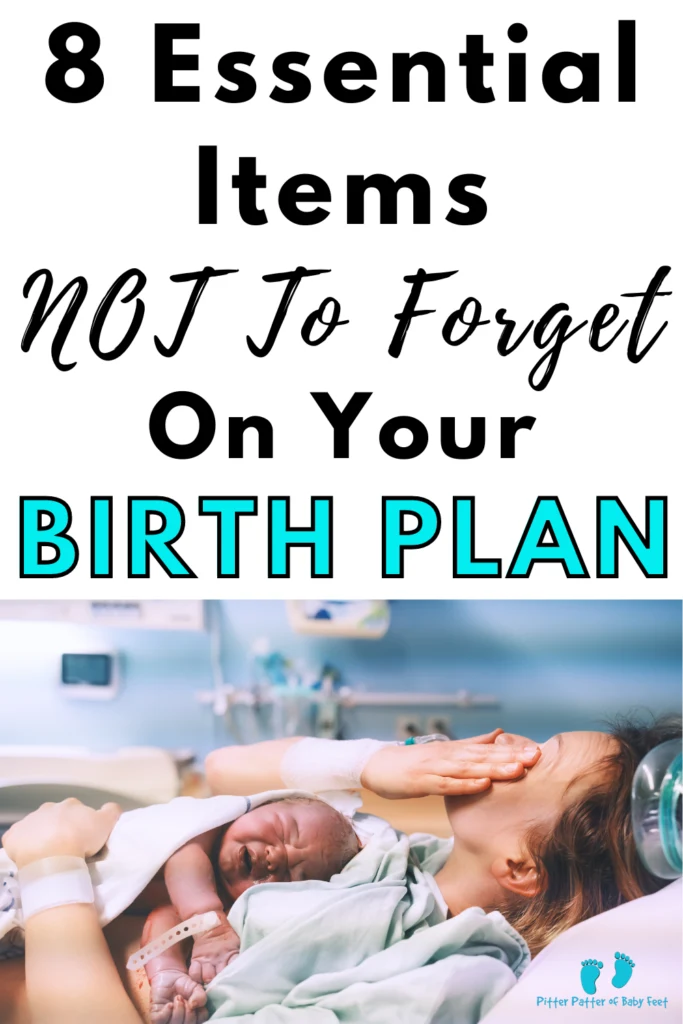 If you're in your third trimester, you need to start thinking about a birth plan outline!
Whether this is your first baby or fourth baby, a birth plan is vital for your doctor, hospital staff and you.
Up until this point, you've probably been going through the motions of pregnancy… Blissfully happy.
But a birth plan needs to be developed to make your labor and delivery go as smoothly as possible.
Of course, sometimes labor and delivery doesn't go as planned.
But when things go astray with labor and delivery, the hospital staff has a clear outline of your wishes to refer to.
For a birth plan you want to clearly convey your wishes… And that means not forgetting any essential things!
To help with your birth plan, here's 8 important items not to forget on your birth plan!
Disclosure: Bear in mind that some of the links in this post are affiliate links and if you click on them to make a purchase I will earn a commission. Keep in mind that I link these companies and their products because of their quality and not because of the commission I receive from your purchases. The decision is yours, and whether or not you decide to buy something is completely up to you.
What To Put On Your Checklist Birth Plan
Your Contact Information
I list this as the first item on your birth plan because it's the most important! Plus, it's the first thing that goes on a birth plan outline.
Without your contact information the hospital staff won't know whose birth plan it is.
Under the contact section you should have the following:
Your name
Your spouse's name
Your doctor's name and phone number
Your phone number and your spouse's
Your doula's name and phone number (if you have one)
Any medical conditions including gestational diabetes
Type Of Atmosphere You Would Like
When it comes to the type of atmosphere you want for labor and delivery, this is all up to personal preference.
It's hard to tell you what things you should include in the type of atmosphere because it's all about what you want!
The best advice I can give you on writing this part of your checklist birth plan is to create a calm and relaxing atmosphere for labor and birth.
Here are somethings to consider for your labor atmosphere:
Lighting
Birth room door open or closed (this reduces outside noise)
TV in room
Soft music
Incense (relaxing scents that will help calm you)
Wearing your own clothes
Wearing contacts or glasses in labor
Nonstress testing
Minimal cervical checks
Intermittent fetal monitoring
These are just some suggestions. There are a ton more out there to create a calm and relaxing environment.
Your Support People
This is a big one! You want to include this section in your birth plan outline because it lets the hospital staff know:
Who will be present during labor and delivery
Who's allowed in the room with you and baby after delivery
Who you DO NOT want present during labor, delivery and after delivery
For some women, they want to see everyone in their immediate family after the delivery. Others prefer peace and quiet with no visitors.
In my own checklist birth plan I had the following: My husband with me at all times throughout labor and delivery; my husband and baby in room with me after delivery and limited visitors of only my mom and our 2-year-old.
Before Active Labor
The early phase of labor is from 0 to 3 cm. Most women will stay home during this very early phase simply for comfort.
Many times, hospital staff will send you home if you are under 3 cm's.
If you become admitted after 3 cm, you need to make some major decisions when it comes to labor. Again, I can't tell you the best way to progress with your labor.
There are many choices you need to consider…
Remaining home as long as possible
How long you want to go over your due date before induction
Discuss induction options before due date
Obtain permission (or not) before hospital staff strips membranes
Whether or not to have membranes broken to progress labor
Induction options: Walking; breast stimulation; rupturing membranes; prostaglandin gels
Different birth positions and tools: Birthing bar; birthing stool; kneeling; semi-seated; sitting upright; side-lying; birthing tub or shower
Pain Relief Options For Labor
In your checklist birth plan you need to make sure that you are very clear on what you want your pain relief options to be!
While many of the above birthing positions and tool will help relieve pain, medication is always an option. However, you need to know your pain medication options.
Your doctor and hospital staff will inform you of your options, but it's best to be knowledgeable about pain relief options before labor begins.
Many times during labor things get hectic and during those moments it's easy to forget about your options and what you want.
That's where your birth plan comes in handy!
Pain relief options during labor:
Epidural- The most common type of pain relief during labor. It will numb the lower half of your body to provide a 90 to 100 percent pain-free labor.
Walking Epidural- Also known as a "low dose epidural." This is not available at all hospitals so make sure to ask before labor. It will provide you with pain relief, but doesn't give the full numb feeling in the lower body. This allows you to have more freedom with birthing positions.
Spinal block- Anesthetic is placed closer to the spine to provide faster pain relief of the lower body. A spinal block is perfect for those who arrive in the hospital in active labor and need pain relief fast.
Pudendal Block- Although not common, it's used as an alternative for an epidural and only numbs the lower vagina and perineal area.
Opioids- Heavy narcotic drugs used to reduce pain without numbness. (Talk to your doctor about risk factors).
Nitrous Oxide- Also known as "laughing gas." Many hospitals do not use this as an option for pain relief.
C-Section Preferences
Although you might not plan on having a C-section because you never had a previous one, it's still important to prepare.
Things happen during labor that you can't control. Discussing your options and preferences with your doctor for a C-section before labor will help ease your anxiety IF you must have one.
Many first time C-sections are done in an emergency situation. It's also best to discuss with your doctor the reasons that may qualify someone to have an emergency C-section….
That way there's no surprises and you're fully prepared in case you need one.
Here are some C-section options you can have:
Your spouse present at all times
Who will be in the surgery with you
Contact with your baby as soon as possible
Anesthesia options (if possible)
Hold and nurse baby immediately
Be with baby in recovery
If you are unable to, you spouse can care for your baby until you recover
Active Labor
Active labor is the phase that includes pushing and delivery of your baby.
Again, you can't always control what goes on during labor, but you can still have your wishes known through your checklist birth plan or your birth plan outline.
Options for active labor phase:
Be directed to push or go on instinct
Dimmed lighting
Touch baby's head while crowing
Use a mirror as a birth tool
Have your doctor, you or your spouse catch the baby
Baby placed on chest or stomach immediately after birth
Breastfeed immediately
Delayed cord clamping
Have your spouse cut the umbilical cord
Whether you want Pitocin before/after or not at all for placenta delivery
Whether you want to keep the placenta
Newborn Preferences
There are a host of procedures following the birth of your baby. Thankfully, you can choose when and what procedures are conducted on your baby.
If you're unaware of newborn procedures that follow delivery then discuss them with your doctor beforehand.
Options for newborn procedures after delivery:
Have you or your spouse present for all procedures
Hold off on newborn procedures till after bonding and breastfeeding
Delay or administer/not administer eye drops
Delay or administer/not administer vitamin K
Administer or don't administer immunizations at the hospital
Circumcision or no circumcision
Bathe, delay or skip bathing your baby
Delay or immediately do PKU testing for baby
If you want your baby to room in or be in a nursery
Breastfeed exclusively, formula only or a combination
Short as possible or long as possible hospital stay
There are more options than these, but it's best to go over everything before with your doctor.
The best advice I can give you for newborn procedures is to state in your birth plan that you want to be advised about all procedures before they are done on your baby.
This is a very important theme on my own birth plan: All procedures on myself and my baby are to be performed with myself or my husband present and everything has to be consented by us beforehand.
During my first child's birth, my son was under critical care and had to be administered antibiotics. I was fine with that because that's what he needed to feel better and heal.
However, they did not inform us beforehand that they wanted to place an antibiotic IV line into a forehead vein.
I was shocked when I got my baby returned to the room and he had an IV in his forehead.
They had placed the IV in the arm before and then moved it to the forehead because they couldn't locate a good vein.
To me, this was not ok! If my son needed the IV in his forehead, then fine.
But always ask the mother and father first and tell them why.
This time I'm making it very clear in my birth plan that we need to be present and consent given before procedures. It will ensure nothing like the experience with my firstborn with happen again.
Final Thoughts
A birth plan outline is a central component to a successful labor and delivery.
No labor and delivery doesn't always go as expected and a birth plan cannot always be followed.
But a birth plan outline will help…
Strengthens communication between your doctor, hospital staff and you
Communicates your wishes clearly
Allows everyone to have a guide on how best to treat you and your baby
I had a birth plan written for my first delivery, but things didn't go according to plan.
Thankfully, the one wish I wanted followed through with was to avoid a C-section unless it was absolutely necessary.
My doctor knew my wishes and I was able to give birth vaginally.
This time around… Writing my birth plan made me anxious. I know what I want and what to expect during labor and delivery.
But my first labor and delivery was a little traumatic and I am scared of labor and delivery the second time around.
I'm hoping more than anything my second labor and delivery will be much different from my first!
Armed with a clear written birth plan you can ease your anxiety and make sure your wishes and preferences are followed as close as possible.
Just don't forget to add the above 8 essential items for your checklist birth plan!
Works Cited