Does your family have any Easter traditions? Easter activities now are then hunting eggs in the backyard!
Easter is about celebrating the start of spring and the celebration of new life.
Whether your family focuses on the religious aspect of the holiday or follows the origins of the Easter bunny and egg hunting, there's a fun activity for everyone!
Easter traditions help your family come together and focus on fun-filled activities to suit everyone's preference.
To inspire a new Easter family tradition, here is a list of traditions your family can start this year to cherish for years after!
Disclosure: Bear in mind that some of the links in this post are affiliate links and if you click on them to make a purchase I will earn a commission. Keep in mind that I link these companies and their products because of their quality and not because of the commission I receive from your purchases. The decision is yours, and whether or not you decide to buy something is completely up to you.
Family Easter Traditions
Egg Decorating
This tradition originated in the 13th century when eggs were a symbol of new life and the celebration of spring.
While egg decorating was taken from Pagan traditions, many Christians see the egg as a representation of Jesus' resurrection.
Egg decorating is a popular choice for many family Easter traditions today!
Some families choose to decorate eggs the night before Easter, then hide them.
This is a great Easter tradition to help your kids get their creativity out, plus get excited for the next day when they search for them!
Don't worry if you don't want to use real eggs! There are plenty of ways your kids can decorate plastic eggs including:
-Glitter eggs
-Drawing with Sharpie pens
-Using sticky back craft foam
-Wrap with yarn
-Puffy paint
Egg Hunting
Obviously, after you decorate Easter eggs you have to hide them. Hiding Easter eggs is a really fine art.
How difficult you make it to find Easter eggs depends on the age of your children.
For children of preschool age or younger, it's best to just lay them in the yard.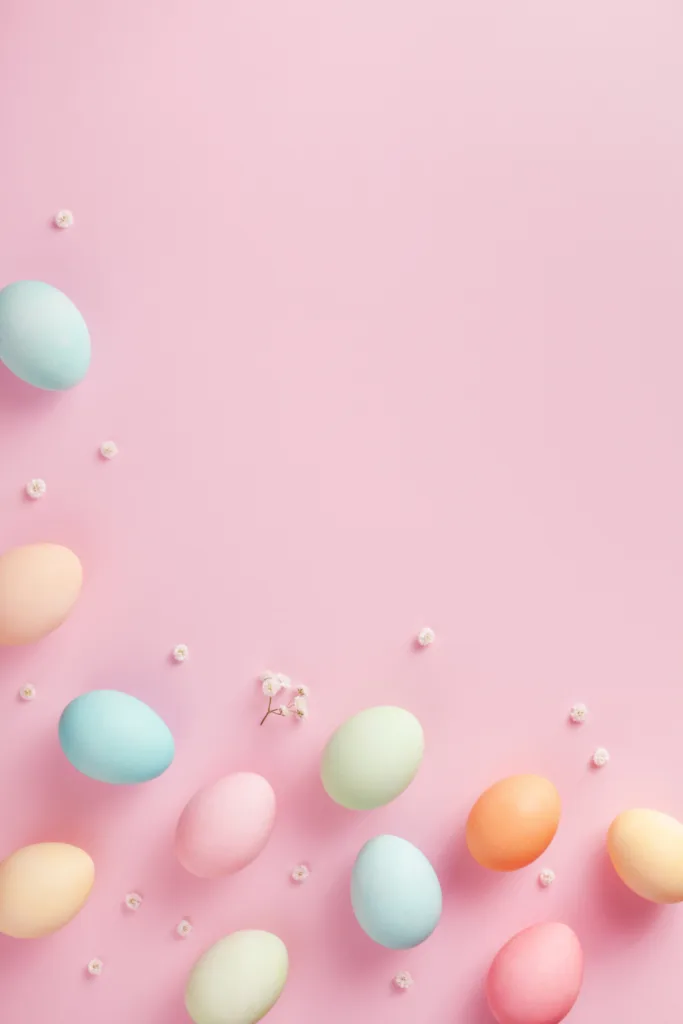 Egg and Spoon Race
An egg and spoon race is a fun way to promote some healthy competition in your family!
Instead of having one race with multiple family members racing at the same time, you can create a bracket type egg and spoon race between two people.
Whoever wins their race, goes on to the next round to face another winning family member!
Just make sure there is an amazing grand prize for the winner of the egg and spoon race.
This tradition can carry on for years and give the winners some major bragging rights!
Your family can also increase the difficulty of the egg and spoon race by creating a miniature obstacle course in your backyard with patio furniture, outdoor toys, and anything else you can find.
Watch An Easter Film
Sometimes the best way to help your child understand the significance of a holiday is by watching a movie!
Whether your family prefers to take a religious approach or not to Easter traditions, there's a film for everyone!
Religious Easter film's
-Ben-Hur
-The Passion of the Christ
-Son of God
-Jesus Christ Superstar
-The Greatest Story Ever Told
Kid-friendly Easter Film's
-The Dog Who Saved Easter
-Peter Rabbit
-Hop
-It's the Easter Beagle, Charlie Brown
-Rise of the Guardians
-The Easter Egg Adventure
-Here Comes Peter Cottontail
Easter Egg Roll
Egg rolling is a tradition dating back to 1878 during the presidency of Rutherford B. Hayes.
The White House now continues this tradition every year right after Easter.
All your family needs to do is create a start line in your backyard (or living room) and roll decorated eggs to the finish line.
Ring-Toss
A ring-toss game can be played indoors unlike the similar game of horseshoes.
Most ring-toss games now do not require a stack in the ground and come with plastic rings to make it easier for younger children.
Make Face Masks
Some craft paper, paper mache, scissors, glitter, and a few other art supplies are all you need to help your children create Easter party costume masks.
Bake Easter Cookies
Cookies never let you down! This is one of the Easter traditions that teach children how to bake and decorate food items.
You purchase a variety of Easter cookie cutters or…
Instead of decorating hard-boiled eggs, decorate egg-shaped sugar cookies with frosting!
Plant A Garden
Easter is all about new life. Why not start new plant life by planting a garden!
Leave Bunny Prints (or bunny poop)
Although it may be silly if you have small children leaving bunny tracks or small piles of bunny poop behind brings a little magic to the holiday!
For bunny tracks, simply Google cartoon bunny tracks and print them off! For bunny poop, leave small piles of Jelly Beans behind.
The best way to incorporate both bunny tracks and bunny poop are to have the tracks lead from the front or back door of your house to Easter baskets.
Tell The Story Of Jesus
While Easter may symbolize new life, the story of Jesus sometimes gets lost in the confusion of the holiday with eggs, candy, and the Easter bunny.
If your family chooses to take a religious viewpoint, then remind your children about the death and resurrection of Jesus Christ by reading passages from the bible.
Hang Decorated Eggs From a Tree
Have you ever seen decorated eggs hanging outside on trees? While this tradition dates back to Germany, the reasons behind hanging eggs from trees have been lost through the centuries.
However, it's still a different Easter tradition your family might get into!
Your family can either go full scale with an outdoor tree or decorate a small tabletop tree with plastic eggs hung with a string or ribbon.
Create An Easter Wreath
Wreaths are no longer just reserved for Christmas. You can make a wreath for any event in your life.
But, creating an Easter wreath with small inexpensive items like plastic eggs, pom poms, and ribbon.
No worries if your family's wreath is not the prettiest!
What matters is you helped your kids create something to celebrate the coming of spring.
Host An Easter Brunch
You can either host an Easter brunch virtually or with immediate family members in person.
There are so many food options for Easter brunch. My suggestion is to make your family's favorite dishes that are for special occasions.
Attend Church
More people attend church Easter and Christmas services more than any other time of year. And for good reason!
People want to remember the life and death of Jesus because it gives them something to celebrate!
Although many churches are closed to in-person attendance, you have the option of attending any church service you want virtually!
There's no need to get dressed up, just relax in your pajamas and snuggle up on the couch with your littles!
Final Thoughts
Family traditions are specific to each family. They not only bond families together, but create lasting memories for years to come… Long after other family members have passed on.
Your children will look back on Easter and other special holidays with happiness at the memories you created for them.
Best of all… Your children may even carry on these Easter traditions to their own children some day!