Fall is here, which means it's time to start planning for your next Halloween party!
Whether you're hosting a bunch of little ghouls and goblins or enjoying a spooky soiree, your party will need tasty treats and fun beverages.
Here are three trendy flavor ideas that are so easy, it's scary!
Disclosure: Bear in mind that some of the links in this post are affiliate links and if you click on them to make a purchase I will earn a commission. Keep in mind that I link these companies and their products because of their quality and not because of the commission I receive from your purchases. The decision is yours, and whether or not you decide to buy something is completely up to you.
Spooky & Easy Halloween Snacks For Your Next Party
Blood Oranges
Sweet and juicy blood oranges get their name from the garishly red-orange segments inside the peel.
Serve up blood orange slices instead of regular oranges for a healthy treat that kids and adults will love.
If you're up for something a little more complex, make a simple syrup by cooking blood orange juice with sugar over low heat until the sugar is dissolved.
From there, you can add the syrup to frosting to make a ghoulish blood orange cake, to lemonade or soda for a refreshing non-alcoholic beverage, or to equal parts gin and lemon juice for a blood orange gimlet that grown-ups are sure to appreciate.
Blood oranges also work well sliced thin and thrown in Sangria!
Sour Gummy Candies
Gummy candies bring out the kid in everyone – why not enjoy them at your next party?
Chop up sour gummy candies, toss in some extra sugar to keep the pieces from sticking to one another, and add the pieces to cookie dough for a colorful twist on a classic chocolate chip cookie.
For a fun and fruity cake, bake the pieces into box mix vanilla cupcakes and top with a blood orange glaze using the simple syrup recipe above mixed with powdered sugar.
If your party is more of an adult-only affair, float sour candy inside a gelatin dessert shot or rim a margarita glass with the sugar left at the bottom of a bag of sour candy.
If you'd prefer to make your own, mix equal parts citric acid and granulated or colored sanding sugar.
Candy Apples
Reminiscent of country fairs, days at the apple orchard, and Halloween parties of yesteryear, candied apples are a tradition worth keeping.
Instead of bobbing for apples, set up a station where guests can dip and decorate their own.
The "candy" is a simple mix of sugar, corn syrup, and food coloring; bright red is a typical choice but daring hosts can opt for green or black "poison" apples.
Have toffee bits, chocolate chips, peanuts, sprinkles, and mini marshmallows available for topping while the apple is fresh out of the candy solution.
The grown-ups can enjoy a candy apple cocktail with green apple and vanilla vodkas, cranberry juice, and a spritz of soda.
Mummy Wraps
There are dozens of ways to do mummy wraps! These easy Halloween snacks can be done with hot dogs wrapped with thin slices of Cresent rolls.
Try spicing things up with jalapeno peppers stuffed with cream cheese and wrapped with thin slices of dough.
For a non-spicy option, simply take garlic bread and melt mozzarella cheese on it in a "wrapped" like mummy pattern. To create the eyes of the mummy add ketchup or mustard dots.
A sweet dessert option is to take bananas or plantains drizzled with white chocolate.
These hold up best for Halloween parties by first placing the banana on sticks, dip in white chocolate, freeze them for at least 30 minutes, and then drizzle with extra white chocolate to mimic "mummy wrap."
Another option for mummy wraps is to drizzle white chocolate over brownie squares.
Don't forget to add eyes to all the mummies with dark chocolate or edible candy eyes!
Cake Pop's
Both adults and kids love cake pop's so you are sure to please everyone this Halloween!
While cake pops require a couple of steps, they are still one of those straightforward and easy Halloween snacks.
Simply purchase a box mix of your favorite cake, different color chocolate candy melts, and follow this Simple Cake Pops Recipe!
Once your cake pops have cooled and the chocolate hardened decorate with different colored frosting to make your cake pops look like cats, pumpkins, and ghosts.
To make this process even quicker, try the BabyCakes Mini Cake Pop Maker!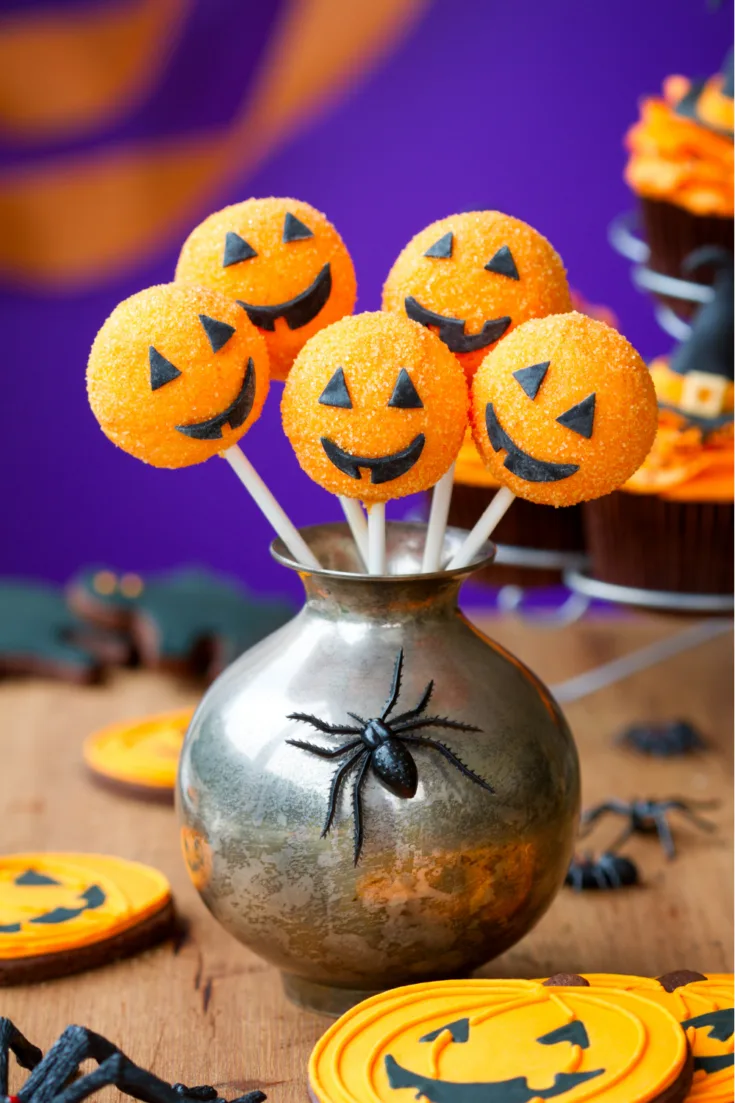 Skeleton Cookies
Similar to gingerbread cookies during Christmas time, skeleton cookies use the same gingerbread man cookie cutter.
Try THIS RECIPE! After the cookies are cooled, use a pastry bag or a Ziploc bag (with a small hole in the corner) to pipe frosting onto the cookies in a skeleton pattern.
Final Thoughts About Easy Halloween Snacks
The recipes above make serving any audience or just your family members simple with these easy Halloween snacks.
Make things easy on yourself – pick one signature cocktail for the evening and make a large batch in a pretty punch bowl, make any desserts a day ahead of the party, and give yourself plenty of time to get ready when it's time for the party.
Follow these steps, and you'll find out that throwing a party doesn't have to be a fright!