When you hear "Halloween," what images do you conjure up?
Your mind immediately jumps to images of trick-or-treating, pumpkin patches, and a surplus of candy.
Instead of performing the same old Halloween activities year after year with your family, why not try something new this year that everyone can enjoy?
Disclosure: Bear in mind that some of the links in this post are affiliate links and if you click on them to make a purchase I will earn a commission. Keep in mind that I link these companies and their products because of their quality and not because of the commission I receive from your purchases. The decision is yours, and whether or not you decide to buy something is completely up to you.
Spooktacular Halloween Activities
Candy Wreath
Simply decorate a craft Styrofoam wreath in your favorite candies using hot glue gun.
Wrapped candies like Snickers and Hershey's kisses work great, as do unwrapped versions of traditional candies like Autumn Mix Candy Corn.
Even though it will take more effort, the end result will be more attractive if you use old-fashioned confectionery.
Finish it off by decorating it with accessories like orange and black ribbon.
Halloween themed sensory bins
For children' learning and growth, nothing beats a sensory bin. Don't forget the pumpkins, ghosts, bats, skeletons, plastic spiders, spider webbing, googly eyes, and other fun Halloween decorations!
Some sensory bin fillers to use include:
-Dyed purple or orange noodles or rice
-Dried Black beans
If you need more ideas, check out the article Sensory Bin Fillers From Everyday Objects!
Pumpkin golf
Pumpkin golf is one of the fun family-friendly Halloween activities that's played indoors.
Take a plastic pumpkin and carve out a large hole where the mouth is (make sure the hole is level to the floor).
Next, grab a kid's plastic golf set with clubs and golf balls and start some indoor put-put golf.
Halloween theme slime
Sticky and icky, slime is a sensory activity perfect for any age child, even adults.
It has a calming effect for adults, while children will love exploring their senses with slime.
Add splashes of Halloween colors like green, purple, or orange. Toss in some googly eyes and plastic spiders to make it more spooky.
HERE'S a 3 ingredient slime recipe I love!
Spooky tic-tac-toe
Spooky tic-tac-toes is a simple game with a twist. Instead of drawing x's and o's to mark spaces, paint small rocks to resemble ghosts, Frankenstein, or pumpkins!
Flashlight tag
Flashlight tag can be played indoors or outdoors with flashlights. Just wait for the sun to go down, turn off all your lights inside the home and porch lights, and designate one person to be 'it.'
Halloween books
I'm slowly adding Halloween books to my children's mini-library. Here are some of the one's we have:
–Spooky Bus (with creepy sounds)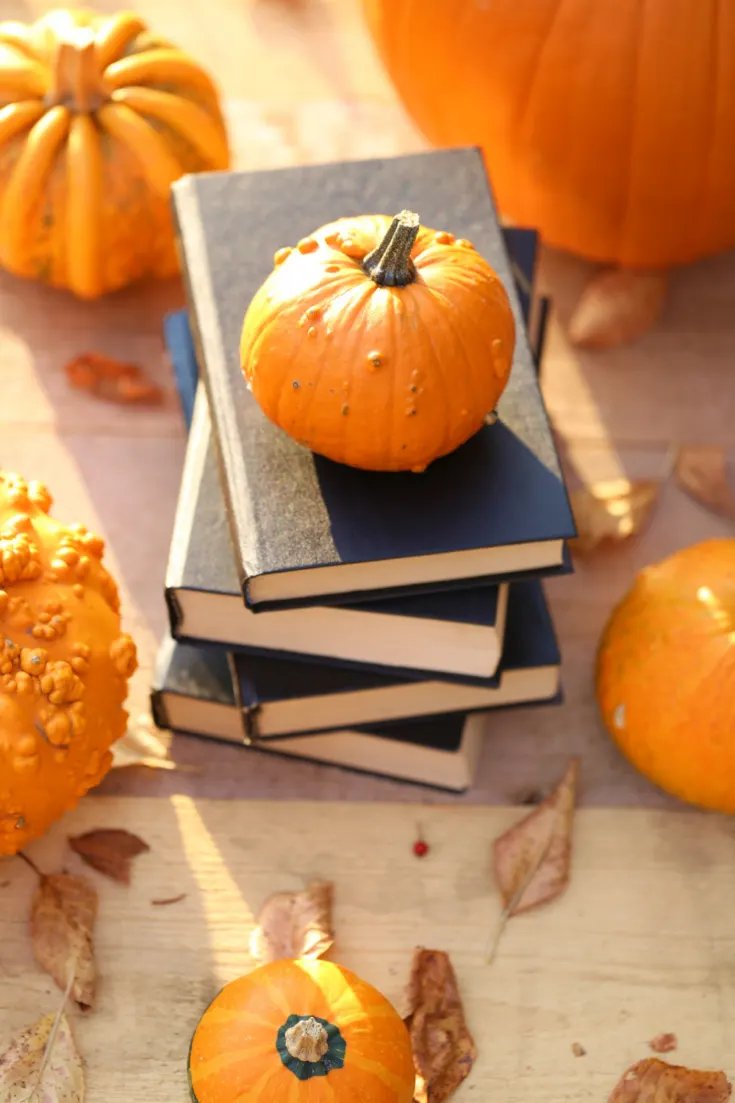 Apple bobbing
Bobbing for apples is a fun way to celebrate this Halloween. Add Red delicious apples to float on water in a small barrel, kiddie pool, or clay/plastic planter.
Pumpkin patch
There's something special about picking out the perfect pumpkin to decorate and put on your front porch.
Many pumpkin patches include music, fun activities, games, contests, and corn mazes for spooktacular family Halloween fun.
Once each member of your family has picked their perfect pumpkin, go home and decorate them with some of the following ideas:
–Puffy paint pumpkins
-Stickers
-Glow-in-the-dark paint
-Glue and glitter
DIY Halloween costumes
Challenge your family to make their own Halloween costumes!
This can be difficult for younger children under 5 because it requires the use of scissors, glue, and possibly some needle and thread.
But if you have older children this is a great way to bring your family together!
Try gathering random objects around the house (old bedsheets, large buttons, belts, etc.) and tell your family to use their imagination to create their own unique costume.
Halloween cornhole toss
Everyone loves the game of cornhole!
Gather your family outside (or inside if you have enough room) and play a game of cornhole toss except with custom-made small ghost, spider, or pumpkin bags like these!
Ring toss
A ring toss game is accomplished with glow-in-the-dark tape wrapped around glass bottles and rings made of glow stick bracelets. Turn out the lights and have some family fun!
Halloween desserts
Whether you choose to go all-out healthy or divulge in making sugary sweets there's something for everyone!
Here are some spooktacular treats to make and snack on this Halloween.
Decorate DIY masks
This can be as simple as using paper bags with holes cut out for eyes and coloring on them for small kids. Or you can make it a little more complicated with paper mache.
Halloween scavenger hunt
Hide spooky objects around your home and have your children find the objects.
This can be things like a candlestick with a black candle, an old Halloween mask, a Halloween cape, and more.
But you need to make it worth their wild by encouraging participation with 1st, 2nd, and 3rd prizes for the most items found in the shortest amount of time.
Final Thoughts
Halloween kicks off the holiday season, but many people tend to do the same Halloween activities.
Not that trick-or-treating is not fun, but maybe your family this year wants to combine your regular Halloween activities with some new ones.
That's when you need to try some of the above Halloween activities.
Last year, my kids went to the pumpkin patch and came home to paint them with puffy paint.
This year we will be adding in the fun Halloween game of glow-in-the-dark ring toss!
What are your favorite family-friendly Halloween activities?