The world right now and everyone in it is in turmoil. Each day I see something else in the news that leaves me feeling, well, hopeless.
It's easy to lose hope and even faith when your surrounded by a constant stressors in life.
Life always seems to throw a curve ball, but 2020 really hit hard!
How do we know try and pick of the pieces of our shattered lives with increased financial strain and the endless flow of political bickering?
While we could turn a blind eye to all the negatively on the news, we still need to be aware of what's going on because it is an important time in history.
If you're like me and you're finding yourself losing hope in regards to your own life, let alone the future of the country as a whole, then you need these 15 famous quotes about hope!
Disclosure: Bear in mind that some of the links in this post are affiliate links and if you click on them to make a purchase I will earn a commission. Keep in mind that I link these companies and their products because of their quality and not because of the commission I receive from your purchases. The decision is yours, and whether or not you decide to buy something is completely up to you.
"Never lose hope. Storms make people stronger and never last forever."
― Roy T. Bennett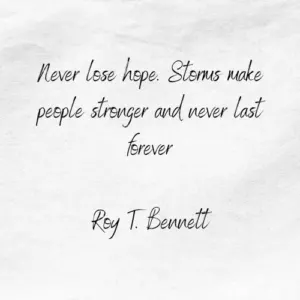 "Hope
Smiles from the threshold of the year to come,
Whispering- 'it will be happier'…"
― Alfred Lord Tennyson
"You cannot swim for new horizons until you have courage to lose sight of the shore."
― William Faulkner
"Hold fast to dreams,
For if dreams die
Life is a broken-winged bird,
That cannot fly."
― Langston Hughes
"I don't think of all the misery, but of the beauty that still remains."
― Anne Frank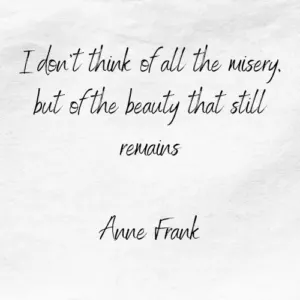 "When you have lost hope, you have lost everything. And when you think all is lost, when all is dire and bleak, there is always hope."
― Pittacus Lore
"This is where it all begins. Everything starts here, today."
― David Nicholls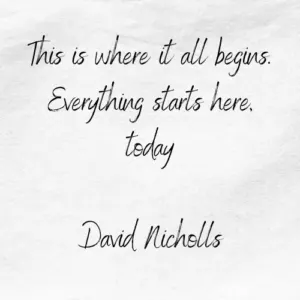 "Remember, Hope is a good thing, maybe the best of things, and no good thing ever dies."
― Stephen King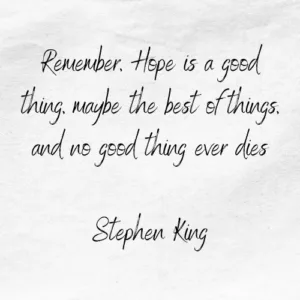 "We need never be hopeless because we can never be irreperably broken."
― John Green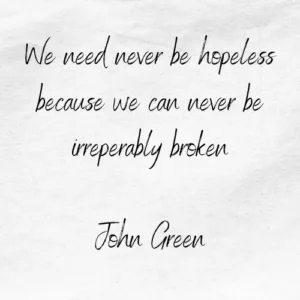 "Since I was young, I have always known this: Life damages us, every one. We can't escape that damage. But now, I am also learning this: We can be mended. We mend each other"
― Veronica Roth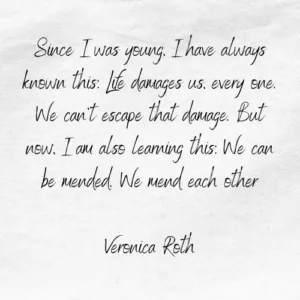 "It is not despair, for despair is only for those who see the end beyond all doubt. We do not."
― J.R.R. Tolkien
"At what point do you give up – decide enough is enough? There is only one answer really. Never."
― Tabitha Suzuma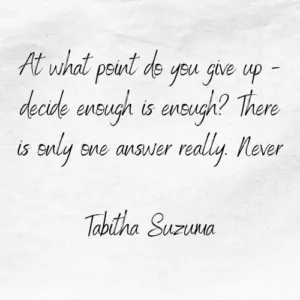 "Happiness is always there. You just have to choose to see it. There's no point dwelling in the dark and ignoring the light of the stars."
― Carrie Hope Fletcher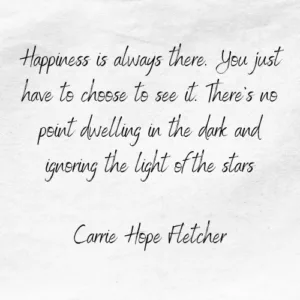 "Hope itself is like a star- not to be seen in the sunshine of prosperity, and only to be discovered in the night of adversity. "
― C.H. Spurgeon
"Never lose faith in yourself, and never lose hope; remember, even when this world throws its worst and then turns its back, there is still always hope."
― Pittacus Lore
Final Thoughts
All is not lost. The world seems to be a pretty horrible place right now and all our news feeds are filled with nothing but a mix of drama and despair.
But I personally believe something get worse before they get better (unfortunately). The truth is we can never be assured of tomorrow. Each day is unique.
If are day is going terrible for you, at least there is always tomorrow. And tomorrow brings with in a new hope. So don't give up!
You never know things may start to turn around in your life tomorrow… That's why we always need to keep HOPE ALIVE!
Works Cited