Valentine's Day is a day filled with love and romance. But every year many people struggle with how to create the perfect romantic and fun day for that special someone.
If you're struggling with a romantic date idea, look no further… This is the ultimate list of Valentine's Day date ideas! Whether you need an intimate setting idea or prefer adventurous date ideas, there's something for everyone on this list.
Here are 80 fun and romantic date ideas for Valentine's Day that are sure to be memorable for the two of you for years to come!
Disclosure: Bear in mind that some of the links in this post are affiliate links and if you click on them to make a purchase I will earn a commission. Keep in mind that I link these companies and their products because of their quality and not because of the commission I receive from your purchases. The decision is yours, and whether or not you decide to buy something is completely up to you.
Fun And Romantic Valentine's Day Date Ideas
1. Bonfire on the beach
If you live near a beach or are a short drive away from one, a bonfire on the beach under the stars is a fun and romantic way to spend time with that special someone.
2. Dancing lessons
Get your feet moving with dance lessons! Even if you're uncoordinated and have no rhythm you'll have fun learning something new.
3. A cooking class
This is for any food lovers! Cooking is a fine art. If you're not the best cook, it's one of the best Valentine's Day date ideas to learn a new skill that can be used for years to come.
4. Candy-making
Similar to a cooking class, candy design is not easy. Do you know how easy it is to bring chocolate and sugar to the exact temperature you need to make candy? It's not as easy as you think! The best part about taking a candy-making class is you get to taste test all your wonderful creations.
5. Ice skating
Obviously, this one is for anyone who loves cold weather. If you and your spouse have never been ice skating it's a great opportunity to watch each other slip and fall and just have fun!
6. Wine tasting
One of my favorite date ideas on this list! Wine tasting is great for any couple that appreciates the finer things in life.
7. Tour an art gallery
Research online to find art galleries near you. You will be amazed at how many local artists there are near you! I find local art galleries are perfect for meeting talented artists and acquiring beautiful pieces of décor for the house.
8. Take art classes
Along with touring art galleries, you can also take an art class together! Many of your local art galleries will offer art classes in a variety of mediums like oil painting and stippling.
9. Create a themed dinner and movie date
Here's a chance to recreate some of your favorite scenes from romantic movies with food! How about watching Lady And The Tramp and cook spaghetti and meatballs for dinner?
10. Attend a sporting event
Many couples prefer a non-intimate setting when it comes to Valentine's Day date ideas. There's nothing wrong with that! Grab some tickets to a nearby sporting event to your favorite team, but make sure it's on Valentine's Day.
11. See a burlesque show
Obviously for the adventurous couple! A burlesque show combines a striptease with creative skits to be both sexy and fun.
12. Go roller skating
Similar to ice skating, roller skating is great for having a few laughs together! Roller skating is hard work and will probably result in many bruises for you and your lover, but at least you tried something new.
13. Karaoke
Some people love karaoke and others hate it. But love it or hate it, karaoke is a fun way to forget about your troubles and focus on matching the right pitch with your spouse or boyfriend.
14. Get a massage
Who doesn't love getting a massage?! Many spas have Valentine's Day specials so there's no excuse not to feel relaxed as possible with your spouse/boyfriend. Or better yet…
Forget about booking a massage appointment for two… Instead, stay in and give each other massages for an ultimate romantic evening!
15. Try horseback riding
Although it's not for everyone, horseback riding on a beach, ranch or in the woods is very romantic. It's a chance to slow down the pace in life and focus on a deep conversation with your date.
16. Give into backyard camping
If peeing by a tree just isn't your thing… Try backyard camping! You still have indoor plumbing in your house and still have a romantic setting as you lay underneath the stars.
17. Attend a yoga class
This is for any couple that wants to relax and unwind this Valentine's Day! Yoga is a great way to slow down and refocus your energy. Plus, having company like your spouse/boyfriend will help you feel right at home in a yoga class.
18. Order takeout and binge-watch romantic movies
Grab your phone, order some Chinese food and stay in this Valentine's Day! Set the mood with a romance movie marathon.
Here's some of the best romance movies out there:
A Star Is Born
Fifty Shades Of Grey
La La Land
Titanic
19. Go to a shooting range
This unique date idea is actually really fun! Whether you're a gun fan or not, a shooting range provides a safe environment to shoot a gun. Or you can try skeet shooting with a shotgun. Skeet shooting is outdoor sport, but it is more difficult to hit the targets/skeets. But no less fun!
20. Rent a luxury car for a day
You can rent just about anything these days. If you can't afford a luxury car, but you or your spouse always dreamed of driving one, now you can! Websites like Turo and Expedia make it easy to rent and drive a Jaguar or Porsche. So rent a car and arrive at a dinner date in style this Valentine's Day!
21. Bar crawl
Many bars celebrate Valentine's Day by hosting parties with themed and discounted cocktails. If you and your date don't feel like spending V-Day alone, then consider a bar crawl to meet new people and tour your city!
22. Host a V-Day party
Of course, instead of attending a Valentine's Day party at your local bar, try hosting a party and invite your friends and family! For Valentine's Day go with a themed party where everything is heart-shaped.
23. Eat a meal and watch the sunset
Yes, it sounds a little corny, but if you're going to eat together any way you might as well make it more romantic by eating during a beautiful sunset on a balcony!
24. Body painting
This date idea can go one of two ways… You and your date can book an appointed to get professionally body painted or skip the appointment and host a private party for two with brushes, body paint or melted chocolate. Just use your imagination! *Wink, Wink*
25. Go for a nature walk
Sometimes the best way to spend quality time together this Valentine's Day is by connecting with nature. Search for the most scenic areas near you to find the perfect date night stroll through the woods or park.
26. Take a hot air balloon ride
This is one of the most expensive Valentine's Day date ideas on this list. However, if you've never taken a hot air balloon ride before I highly recommend it! The view is breathtaking! I went for a hot air balloon ride bout 7 years ago and it's a once in a lifetime experience.
Some hot air balloon rides even offer dinner as well!
27. Double date
If you don't care about an intimate setting between the two of you, consider adding another couple to your Valentine's Day plans and double date!
28. See a live band
Attend a concert or see a local band. When you stick to seeing a local band many times the concert will be extremely affordable or even free! You can't beat that for a budget-friendly Valentine's Day.
29. Get lucky at a casino
If you're into gambling going to a casino for Valentine's Day is great for hours of fun! Just remember to stick with a budget before going gambling.
30. Tour a winery or brewery
A lot of work goes into making wine and beer. Find a winery or brewery near you to see the process of how everything is made as well as being able to taste test.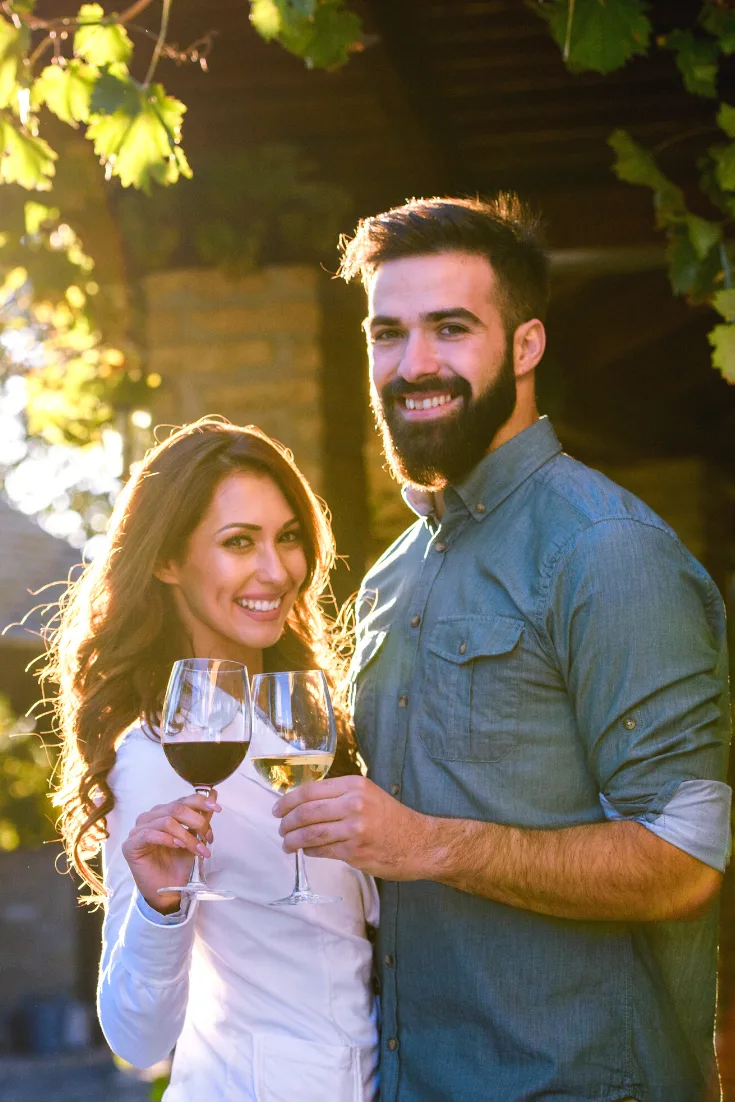 31. Shoot some pool
You don't have to be good at this game in order to enjoy shooting pool. Even if you've never played before, it's a chance to learn a new skill…. Yes, pool does require a certain amount of patience and concentration.
32. Play strip poker
This is one of the Valentine's Day date ideas that needs to be just for the two of you! The best part about strip poker is that the worst you are at it, the better things get romantically!
33. Paintball war games
Be on the same team or opposite sides… Playing a game of paintball is great for couples on Valentine's Day who want to get a little competitive.
34. Serve breakfast in bed
Have you ever had breakfast in bed? It's actually much nicer than it sounds. It's a simple, yet kind gesture to do for your spouse/boyfriend on V-Day. So whip up some pancakes, eggs and bacon and enjoy each other[s company in bed for breakfast!
35. Old school game boards
Don't knock sitting at home playing board games! Just give them a chance… Order some take-out, find your favorite show and pick some of the following fun board games to try!
36. Write love letters to each other
At times it's hard to explain to someone how much you love them and why. It's easier to put your words to paper! Sit down and write an intimate love letter to your significant other and read it to one another. This is one of the best Valentine's Day date ideas to show/tell each other just how great your love and commitment is.
37. Take a romantic bath
Think bubbles, rose petals and floating candles. Plus add your favorite sexy playlist and you have a recipe for the most romantic Valentine's Day of all time!
38. Volunteer at a local animal/homeless shelter
The best way to celebrate love is by giving it away. Instead of spending time with each other, share your love with animals and/or people at your local shelter.
39. Visit a comedy club
Perfect for drinks, dinner and of course… Lots of laughs!
40. See a musical or ballet
This doesn't necessarily mean a Broadway show. You can snag tickets to a musical or ballet for cheap from a high school or community theater near you.
41. Try miniature golf
If you don't love 18 holes of golf, then miniature golf is defiantly for you. It's not every time consuming and beginner golfer can play easily!
42. Indoor rock climbing
I say indoor rock climbing because personally, I wouldn't want to rock climb in the winter months. But if you're an extreme sport kind of couple then go for it! On the other hand, indoor rock climbing is a great date idea for a fun sporting activity!
43. Take a ski weekend
I'm not much a skier myself however, I would happily take a romantic Valentine's Day weekend trip to the mountains! So grab your skis and hit the slopes!
44. Go sledding
When you can't get away for the weekend to the mountains, pick a nearby park with a hill and recreate your childhood by going sledding with your date!
45. Create an ice cream sundae bar at home
Even if you're dairy-free, an at-home ice cream sundae bar is delicious, yet still romantic! Set up your table or bar with peanuts, sprinkles, chocolate, gummi bears and more!
This is also a great date night to include other people in!
46. Host a fondue night
When you think of Valentine's Day chocolate immediately comes to mind! You could always do dessert fondue and mix chocolate with strawberries, shortcake, angel food cake and more.
But fondue is more than melted chocolate! Throw some cheeses in your fondue pot and spend the night with your date and closest friends this V-Day!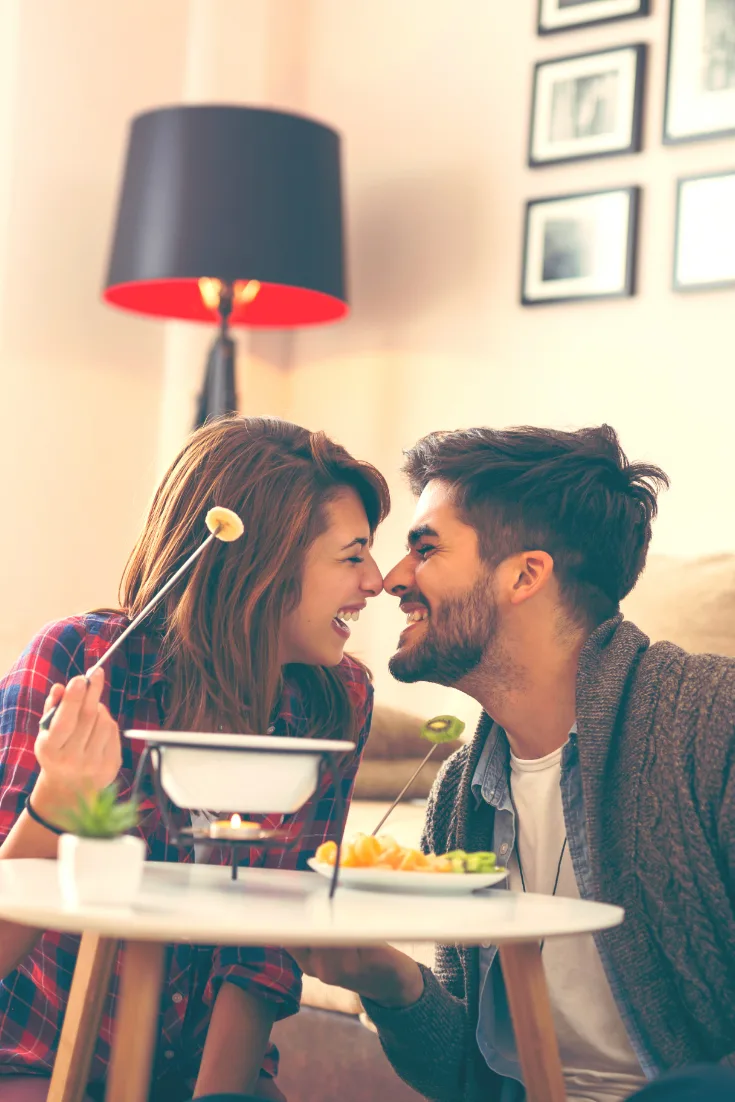 47. Go for an indoor picnic
Since February tends to be a cold month across the country, going for a picnic outside is not the most comfortable. But you can clear some space in the living room (or bedroom), lay down a blanket, open a bottle of wine and eat an intimate dinner for two.
48. Ask each other questions
Is there anything you ever wanted to know about your spouse or boyfriend? Why not try a game of questions?
Write down questions you have (that will not start a fight) on a piece of paper and have your date do the same! Then exchange the papers and take turns answering the questions.
Depending on the depth of the questions asked, this question game could be suitable for committed couples or couples new to the relationship.
49. Create a scrapbook of your favorite memories together
Think of your favorite memories together and create a scrapbook. Even if you don't have any pictures of those memories you can still get creative with your scrapbook. If your first date was dinner and a movie… Put a picture of what you ate and the movie you saw.
50. Tour your city
Instead of leaving town for the evening, try sticking around for Valentine's Day and see the sights around your city. Basically, be a tourist for a day! By seeing the sights from a tourist's point of view you and your date will find an appreciation for your city.
51. Take a class at Home Depot or Lowes
Ok, this is the ultimate date idea for married couples! Now that I'm married and own a home, I live for nights when my husband and I can escape to Home Depot or Lowes… And yes I do call going there a date!
If you own a home with your boyfriend or husband then why not take a class about tiling for Valentine's Day?
52. Hike a trail
There's nothing better than combining exercise with nature. Just grab your hiking boots and your boyfriend/spouse and find a hiking trail that fits your difficulty level.
53. Do a DIY project together
This is one of those Valentine's Day date ideas for couples who don't argue easily. Trust me, DIY projects can strain your patience with your significant other. I've gone through many arguments with my husband during DIY projects.
But if you're the type of couple that works well together, then why not tackle a DIY project around the house to bring you closer together plus get something done!
54. Rearrange furniture
Another DIY project… Rearranging furniture is for couples who live together. While it might seem boring, for some couples rearranging furniture for Valentine's Day is the perfect relaxing evening.
55. Binge-watch TV in bed
Instead of going out for the evening, make plans to stay at home. Play the lazy card with your date and stay in bed binge-watching your favorite shows.
56. Play pretend
Adult pretend play that is! Get a nursing uniform and have your lover pretend to be a doctor. The skies the limit on this sexy date idea, so use your imagination.
57. Read together
No, you don't have to be an eighty-year-old couple to read together. So grab a book that both of you enjoy and take turns reading out load and have a book discussion. It's basically a book club for two!
58. Do a puzzle
I'll be honest… I hate puzzles! There's no way you could get me to do this for Valentine's Day or any day of the year! But if doing a puzzle sounds interesting for a quiet night at home, then start a 500 piece puzzle.
Or better yet, assemble a 3D puzzle!
59. Visit a candy store
Candy stores are not just for kids! Find your inner child at a candy store with your date on Valentine's Day. Candy shops normally carry hard to find candies you haven't seen or tasted for years like Candy Blox (my personal favorite).
Find your favorite candies then take a stroll through the park with your date and exchange candies!
60. Go to an arcade
Who doesn't love to go retro by going to an arcade?! Yes, arcades are hard to find now but that's what makes them so great! Say yes to game night this Valentine's Day by going to an arcade.
61. Play bingo at a community center
If arcades are not your thing, then maybe an easy game of bingo. Be aware that some people who attend bingo games at community centers take it VERY serious, so come to play! Many community centers offer cash prizes!
62. Spend a night media-free
I know this is easier said than done, but spending Valentine's media-free is important for reconnecting with your significant other. Sometimes our electronics get in the way of a meaningful conversation. It's time to disconnect and focus on each other this Valentine's Day!
63. Create crappy gifts
Think elementary school Valentine's Day gifts of paper mache and candy hearts. This is one of those fun Valentine's Day date ideas! Just go to your local craft store and get crafts to create the crappiest and corniest gift you can think of! Now exchange them and have a laugh!
64. Go get a tattoo together
Reserved for serious couples only! Of course, you don't have to get each other's names tattooed (seriously don't do that!), but you could get tattoos together that don't match. I'd only get matching tattoos if you're married!
65. Adopt a pet
Again… This one is reserved for committed couples. Nothing changes a pet's life more than giving a dog or cat a good and loving home. So why not make it a memorable Valentine's Day by going to your local animal shelter and adopting a new member into your family?
66. Attend a jewelry making class
Some guys might not be into this date idea, but you never know if you like something until you try!
67. Try a pottery class
If you have never taken a pottery class, I highly recommend it! There are so many pottery techniques and different things to make. All you need is a little creativity and some patience. Pottery is a fine art after all!
68. Have a nerf gun war
Stay home. Hide in your house or the backyard and just find your inner kid again with your significant other with a nerf gun war.
69. Create a list of things you love about each other
Corny? Yes! But that works for Valentine's Day. Make a list of things you love about your boyfriend or spouse and read them out loud. This is an amazing way to show someone just how much you care. Plus, you will probably boost their confidence at the same time!
70. Create the ultimate couples bucket list
Are you in a committed relationship? If you are, then think of the future by creating a 'bucket list' of things to do throughout your life together!
71. Plan your dream vacation
Along with creating a 'bucket list,' sit down and plan your dream vacation together. Turning that dream into a plan of action is one step closer to actually taking the dream vacation.
72. Build an igloo/snowman in the snow
Obviously a perfect and easy date idea for when you're snowbound!
73. Book a getaway to a secluded cabin
What's better than a romantic Valentine's Day weekend in a cabin?! Better yet… A weekend away from kids and responsibility. This will allow the two of you to rekindle any romance lost throughout the year!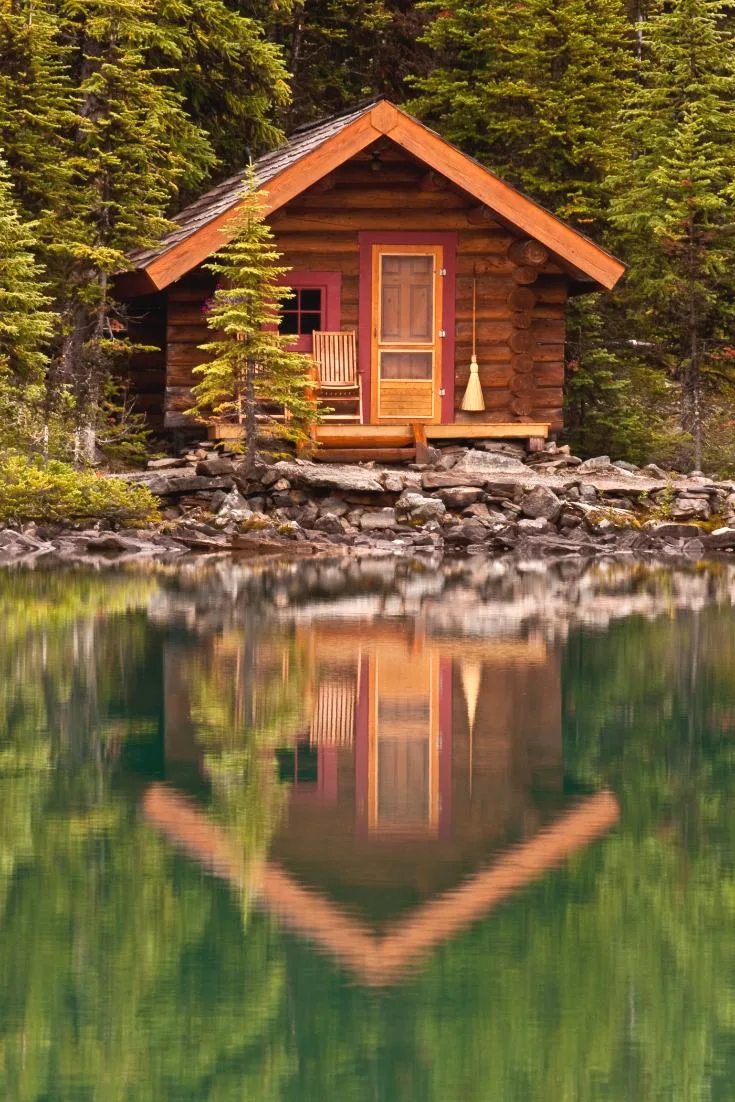 74. Go bowling
Bowling a fun game you can play any time of the year. Best yet… This is one of the best Valentine's Day date ideas great for the entire family. So bring the kids!
75. Attend a craft bazaar
Attending a craft bazaar is perfect for any creative couple or for those who appreciate art. Craft fairs or bazaars pop up all the time throughout the year and are very affordable to attend.
Final Thoughts
Valentine's Day is all about spending quality time with someone you care the most about. That other half of your soul!
Of course, for this day it's not always the easiest to come up with a fun, yet romantic date idea. But now you don't have to think of Valentine's Day date ideas for a long time!
Just keep this list on hand and try a different date idea with your boyfriend or spouse for years to come!
Happy Valentine's Day!!!