Many children are picky eaters. Including my own kids! It's difficult for parents to strike a balance between what kids like to eat and proving healthy options.
Now, you don't have to choose or work hard to provide a nutritious snack!
These easy homemade fruit roll-ups with strawberry and blueberry are paired with whipped cream cheese!
Disclosure: Bear in mind that some of the links in this post are affiliate links and if you click on them to make a purchase I will earn a commission. Keep in mind that I link these companies and their products because of their quality and not because of the commission I receive from your purchases. The decision is yours, and whether or not you decide to buy something is completely up to you.
How To Make Homemade Fruit Roll-Ups With Strawberry And Blueberry
Let me start by saying that this homemade fruit roll-up is perfect for an afternoon snack or a before bedtime snack.
These can also be cut up and shared between siblings or simply rolled up and eaten as is. There is no cooking involved with this. It's all simple easy prep work to a delicious and healthy snack!
While my kids loved the recipe as is there are other ingredients you can add to fruit roll-ups! Try some of the following add-ins!
Ingredient Alternatives:
Banana

Peanut butter

Nutella

Mini chocolate chips

Kiwi's
Feel free to play around with ingredients and make it with all your child's favorites!
Ingredients Needed:
Large tortillas (whole wheat, low carb, gluten-free, or flour)

1/4 cup of strawberries

1/4 cup of blueberries

8 oz of cream cheese

1-2 tablespoons of Monk fruit sugar or other sweeteners
Step 1: Pull out the cream cheese
Before you do anything you need to pull out an 8 oz cream cheese block and wait for it to soften.
This will help the cream cheese spread better in the fruit roll up and prepare it for if you want to whip the cream cheese.
Step 2: Wash and prep
Start by washing the strawberries and blueberries. Then, grab your cutting board and a knife and start removing the tops of the strawberries and cutting them into slices.
Now, with the blueberries, I chose to cut them into fourths instead of in halves. That way the blueberries would not pose a choking hazard for younger children.
Step 3: Whip the cream cheese
To create whipped cream cheese you need to put the 8 oz cream cheese block in the mixing bowl of a KitchenAid mixer. If you don't have a mixer, you can always purchase a handheld mixer!
Beat the cream cheese until it's extra smooth with little to no lumps.
I also added 2 tablespoons of Monk Fruit Sugar to the cream cheese and mixed it again. This sweetened the cream cheese and helped to cut down on the acidic taste of the strawberries and blueberries.
Step 4: Put it all together
It's time to make the homemade fruit rollups with strawberry and blueberry!
For this recipe, I used low-carb tortillas. These are a staple in my home!
Although this is a great healthy alternative to regular flour tortillas, you can also use whole wheat tortillas and it will be just as tasty!
Before adding the sliced fruit, smear on a thick layer of cream cheese. Yes, I said thick layer!
I did not apply a thick enough layer of cream cheese and it would have been much better with more cream cheese. Plus, it helps hold the fruit together in the tortilla!
Once your cream cheese is spread on the whole tortilla, place your strawberries and blueberries on half of the tortilla. Then, tuck in the end of the tortilla with the fruit and begin tightly rolling the fruit and tortilla.
Now, it's completely up to you how you want to cut and serve these! You can leave the whole rollup, cut it in half, or cut thick slices about one inch in thickness.
Final Thoughts
Depending on your children's ages these can be a little messy! But my two-year-old loved them and ate an entire fruit rollup by himself! I will tell you that you will have leftover whipped cream cheese from this recipe.
However, if stored in an airtight container, you can keep it for up to a week and continue to use it for making more homemade fruit rollups with strawberry and blueberry!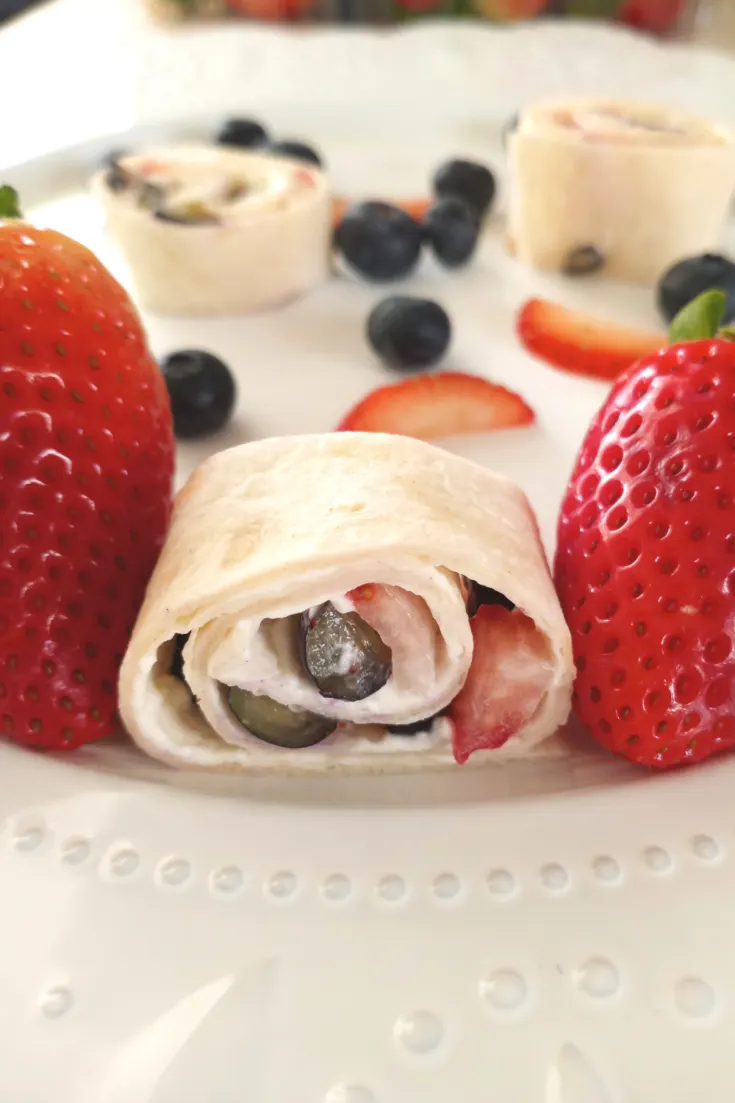 Yield:

1 + fruit roll up
Nutritious Homemade Fruit Roll Ups With Berries
Additional Time:
15 minutes
This homemade fruit roll up is made with whipped cream cheese, strawberries, and blueberries to create a scrumptious and nutritional snack for kids!
Ingredients
Tortillas
1/4 cup of strawberries (sliced)
1/4 cup of blueberries (cut in half or fourths)
8 ounces of cream cheese
1-2 tablespoons of sweetener (optional)
Instructions
1. Let the cream cheese sit out until it is softened
2. Wash the strawberries and blueberries. Cut the strawberries in thin slices and cut the blueberries into halves or fourths
3. Whip 8 ounces of softened cream cheese with an electric mixer until cream cheese is smooth without lumps. (Add 1 to 2 tablespoons of sweetener if desired).
4. Smear a thick layer of whipped cream cheese over the tortilla
5. Add sliced strawberries and blueberries to one side of the tortilla
6. Roll the tortilla with fruit tightly.
7. Slice the fruit roll up into 1 inch thick slices or cut the fruit roll up in half and enjoy.
Notes
You will have left over whipped cream cheese you can use for additional fruit roll ups. Make sure to store it in a container. It can be refrigerated for up to 1 week. The whipped cream cheese leftovers can be spread on toast, waffles, and French toast!