Are you feeling cabin fever yet from being stuck at home? The feeling of cabin fever only gets worse with a lack of hobbies.
But sometimes you need to discover a new hobby to help pass the time.
There's a million hobbies, but only few are interesting and fun enough to want to pursue every day during quarantine.
Thankfully, all of us have extra time to spare now-a-days to invest in an indoor hobby while we practice social distancing.
Here are the best indoor hobbies to keep you busy!
Disclosure: Bear in mind that some of the links in this post are affiliate links and if you click on them to make a purchase I will earn a commission. Keep in mind that I link these companies and their products because of their quality and not because of the commission I receive from your purchases. The decision is yours, and whether or not you decide to buy something is completely up to you.
50 Indoor Hobbies To Do At Home
1. Learn a new language
This quarantine makes it a perfect time to add to your resume by learning a new language.
There are tons of apps to help you with simple phrases and beginner conversations, but if you want to get serious about acquiring new language skills, try Rosetta Stone.
Rosetta Stone gives you access to 24 languages. That way in case you find out you speak better Spanish, than Japanese you can switch to a new language.
2.Read a new book
This is a simple one. But not everyone finds reading and books enjoyable.
Personally, I am the type of book worm that makes a list of books to buy when I head to Barnes and Noble.
Since you're stuck indoors now and can't go out and shop for books, an Amazon Kindle subscription is perfect! Try it today to get your first month FREE!
3. Listen to a podcast
Podcasts are all the rage today! You can find a podcast on just about any subject.
I'd suggest finding a podcast to lift your spirits and make you forget about the current pandemic (if that's possible).
4. Workout with Beachbody
Other than writing blog articles and taking care of my kiddo's… This is what you will find me doing.
I've taken a major investment in my health by trying a three month subscription to Beachbody on demand.
Although I only subscribed for three months, I'll be renewing the subscription for longer!
Beachbody workouts are incredible and I love the diversity of workouts it offers you.
Since I get bored with workouts easily, I've (so far) been alternating days with the following workouts: 21 Day Fix, Clean Week, and T25. I tried the Country Heat workout and it was very fun, but I have no rhythm.
5. Painting
Painting is extremely relaxing and artistic. I personally like painting with acrylics (at least I did before my kids came along). Acrylics are the easiest paint to work with.
Many people will tell you to start with watercolor painting. I disagree.
Watercolor is harder than it looks, but it's also the least messiest of all the painting mediums.
If you're a beginner, I'd stay away from oil painting. It's difficult to work with.
Starting the hobby of painting is easier than you think.
Here's what you need:
Imagination
There is a bit of a learning curve when it comes to the techniques of painting.
To help with this try a painting technique book. It's perfect for the visual learner!
6. Upcycle
Upcycling is all about turning trash into treasure! For upcycling all you need is some patience, time, and imagination.
That old dresser sitting in the garage… Upcycle it into a wine bar!
Old flower pot lying around… Give it a makeover with some paint!
7.Crochet
This is another pastime I really miss doing.
My grandmother taught me to crochet before her dementia set in and I'm extremely grateful for this amazing skill I learned from her!
You can crochet anything from socks to a nice scarf! Here's a beginner crochet pattern book and crochet needles to get you started!
8. Epoxy Resin
I love to create things out of resin! I love it so much I've even created resin education tools and resin charms/trinkets to add to slime, I Spy bottles, sensory bins, and more. Check out my resin numbers below!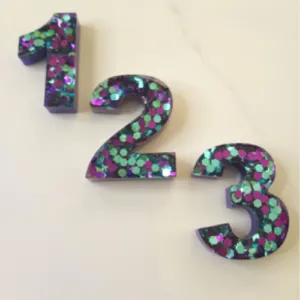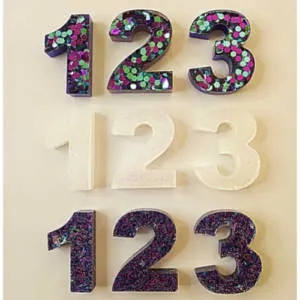 9. Learn photography
I say "learn" because photography is more than just snapping a camera.
Photography is a fine art that you need an eye for. Photography is all about capturing the perfect shot!
While I mainly photography my children, if you're heading out of your house for a quick walk outside, take your camera with you and start snapping pictures!
You never know, if you get good enough you could begin your own photography business and quit your 9 to 5.
10. Play a board game
This is a simple one and you've probably already done it, but board games are making a comeback because of this quarantine.
And for good reason, board games are a fun family pastime!
Plus, indoor hobbies like board games help stretch the mind a little.
If you're looking to find some family bonding and take up a few hours in your day, then a board game is your answer!
Try some of my favorite board games below:
11. Take online college courses
Have you ever wanted to pursue a different career path but never went to college? How about take a class on mythical folklore?
Whatever your passion is, pursue it with free online courses from the most prestigious universities around the world!
12. Baking
Even if you're on a strict keto diet, there's always something you can bake! Just substitute whatever you need to suite your diet needs.
But be careful, many original recipes don't taste the same once you start substituting too many ingredients.
Instead of substituting ingredients, experiment with a new cookbook!
13. Home brew beer
Home brewing beer is not just for men! But whether you're a man or women, home brewing beer takes time, dedication and a lot of patience!
Home brewing beer is made simple with a starter kit fit for any beginner.
14. Wine making
Just like a home brewing kit, wine making is a pastime you can do from the comfort of your own home with a starter kit.
15. Learn the art of sushi making
This is definitely something I want to find the time for.
I'm pretty picky when it comes to my sushi and it's expensive.
So why not make your own at home with a sushi making kit! This is on my to do list for indoor hobbies!
16. Play an instrument
For those who are musically inclined… Why not enhance your skill set with a new instrument!?
17. Take paid surveys
Ok, I'm sure you've read plenty of articles about how paid surveys can take the place of a full-time job.
Well, I'll tell you that for most people that's not the case.
But paid surveys are a way to pass the time, plus earn a couple extra bucks while doing it!
18. Learn how to code
Although this is similar to taking college courses, I put coding in a categories all on it's own because it's a valuable skill that can serve you well. Plus, it looks amazing on a resume!
19. Graphic design
I have a paid subscription to Canva and it's absolutely worth every penny!
I love graphic design and have invested much time and effort into creating Pinterest pins and infographics for my blog.
Yes, I'm proud to say every pin you see on this website is designed by me!
And you can do it too! Graphic design is an amazing and creative skill to master!
20. Start a YouTube channel
I've often thought about extending my reach with this website and creating YouTube videos related to fertility health, but I think I have my hands full as it is. So for now I'll stay away from a YouTube channel.
But you don't have to! YouTube is perfect for anyone who wants to teach someone else anything they are interested in.
Since you have extra time to spare in quarantine, it's the perfect opportunity to gain some YouTube traffic and establish yourself as a notable vlogger.
21. Rearrange furniture
Personally, I get bored with the same layout in my house. I often am rearranging furniture and pictures on the wall. If you've been stuck at home for a while, your house may start to feel like it's closing in on you.
Why not open up some more space by rearranging furniture in each room?
22. Tutor online
Calling anyone with a college degree! Unlike paid surveys, tutoring online will actually make you a descent amount of money!
Some sites pay tutors as much as $25 an hour for tutoring on a variety of subjects including science, math and English.
If you're laid off from work, tutoring students online may be a lucrative way to pass the time.
23. Start a garden
Why not soak up some sunshine and get out of your house?
Travel to your backyard and start digging in some dirt! Start a garden and plant all your favorite vegetables.
24. Campout in your backyard
This is a fun backyard activity for children. Set up a campsite write in your backyard and camp overnight.
25. Scrapbook
Scrapbooking is a great creative hobby. It's perfect for preserving photographic memories collapsed in one or multiple books.
So grab your old family photo's, scrap paper, stickers and more to create a scrapbook to hand down for generations.
26. Drawing
Tap into your creative side with drawing! I'd start with a quality set of graphite and charcoal pencils to gain crisp lines and shading techniques.
Drawing is a hobby that takes a lot of practice in order to get good at.
But once you've done a few drawings and experimented with different techniques, you feel a sense of pride as well as feel relaxed.
27. Card games
by far one of the oldest past times there is… But card games are a great indoor hobby!
When I was growing up my grandfather taught be how to play Cribbage. Cribbage is a cross between a card game and a board game.
It still remains one of my favorite games to date. However, for some it is a little complicated so try and read about it in order to play the game.
28. Learn to dance
I know it sounds silly, but dancing is a great stress reliever. You don't have to be good. Learning to dance is part of the fun of it all!
Whether you want to dance to your favorite playlist, dance to exercise or learn how to salsa dance with your significant other, dance your heart out to create some happiness while stuck at home.
29. Learn origami
This is a fine art and one that's more complicated than it may seem. Origami is the Japanese art of paper folding.
While paper folding may seem boring, it's actually quite calming. I love folding paper cranes!
Trust me when I say you will need a book on origami to teach you the techniques and specific origami rice paper.
30. Write poetry
Writing poetry is harder than it seems and it's not for everyone.
But if you're creative and feel like tapping into your emotions in a descriptive way, then give poetry a try!
If you don't know where to start on writing poetry, try writing a haiku.
A haiku is a Japanese form of poetry that consists of three lines that's inspired by nature or a beautiful moment.
31. Write a short story
Unlike poetry you don't have to rhyme anything! The only thing that limits your short story writing abilities is your imagination.
If you've always had a story brewing inside you that hasn't come out, then now is the time to put pen to paper and write your story!
32. Beat a world record
Ok, this one is a little silly. However, if your kids are bored out of their minds and you need a quick escape from reality, why not challenge your children or yourself to beat a world record.
No, not the record for the 100 meter dash. But rather something fun and silly.
Here's some ideas for you:
How many sticky notes you can place on your face in a minute (current record is 58)
How much Jell-O you can eat with chopsticks in a minute (current record is 3.2 oz)
How many leapfrogs two people can do in 30 seconds (current record is 32)
33. Wood working
Many tend to think about wood working projects as a "man's hobby."
But what makes it only for men? Wood working is a diverse hobby.
Within the realm of wood working you can restore old wood dressers, build furniture or whittle little Star Wars figurines. Don't worry, I don't judge!
34. Leather working
Leather working is a skilled craft that requires patience and time. It's not something you can dive into without knowing the tools and how to use them.
I highly recommend a step-by-step instructional guide leather working. Here's some leather working tools and leather rawhide to help you hone your craft.
35. Start a Facebook Group
Have you noticed how Facebook is really promoting groups now?
Groups are a way to bring likeminded people together. At least virtually at the moment.
If you have a love for something, than why not find other people who love the same things?
Starting a Facebook group is very easy and can be done in a matter of minutes.
36. Start a virtual book club
Similar to starting a Facebook group… Try a virtual book club.
Talk to your friends and agree to read the same book and discuss it online with one another.
This allows everyone to have a mental break from the stress in the world, while having a literary discussion.
37. Reorganizing closets
Although this is one of the indoor hobbies that's not completely considered a hobby… It's a very short-term hobby!
Closets tend to be overrun with messes. They hide all our dirty secrets.
If unexpected company shows up… Dirty laundry is thrown into the closet. Out of sight and out of mind.
This means your closets deserve some extra attention.
Take some time to pour through your closet and throw away anything you no longer use or wear and organize.
38. Make a gingerbread house
Calling all Christmas lovers! If you wish the Christmas season was all year around, then make a gingerbread house.
Although you can't find premade gingerbread house kits in store, you can buy all the ingredients and start baking!
Gingerbread houses take time and commitment.
So make your house as extravagant as your imagination will allow.
39. Cheese making
Yes, you can make cheese! I've never tried it myself, but since you're stuck at indoors and have time to spare cheese making might become your new favorite pastime.
Thankfully, there are cheese making kits for anyone who knows nothing about the process of making cheese.
40. Quilting
Let me start by saying that quilting is not easy! Will you create a massive king size quilt? Probably not.
But you can quilt much smaller things like a table runner or baby blanket to learn the techniques of quilting.
I'll admit… This is one of the most challenging indoor hobbies on this list!
I use to help my grandmother quilt. There's a lot of planning and preparation that goes into making a quilt.
But once you're done there's no better feeling of accomplishment.
41. Calligraphy
Calligraphy is the art of letter writing. A very 'pretty' form of handwriting.
Calligraphy is often seen with customized and handmade cards and invitations.
I've done some calligraphy is the past and I was amazed at how calming it is!
I think this would be a great hobby for anyone who's dealing with anxiety.
Calligraphy allows you to channel your anxious thoughts into a tedious task that requires focus.
42. Jewelry making
Jewelry making is a very creative hobby requiring patience.
For some reason I could never get into this hobby, but it's possible to earn some extra cash from this hobby. Why not make some jewelry and sell it on Etsy?
43. Start a home improvement project
Since being stuck at home, I've found myself looking around my house and feeling dissatisfied.
Not because there's toys littered all over the floor, but because there's many things a want to update.
My kitchen cabinets need a fresh coat of paint… The laundry room trim needs to be stained. The bathroom light needs to be updated.
Start looking through your home and making a list of everything that needs to be done and start renovating!
44. Lego's
No, it's not just for kids! Lego's are a creative way to build even the most elaborate designs.
Honestly, I'm impressed by the things people create out of Lego's.
Indoor hobbies like Lego building help you tap into your inner child! Your kids will thank you for this one!
45. Puzzles
I'll be honest… I hate puzzles! My mom is constantly working on new puzzles on her tablet and I do not understand the obsession.
I become frustrated rather quickly when it comes to find the perfect piece to a puzzle.
My mom always says, "It's calming." But not for me!
However, you might agree with my mom and find puzzles calming as well.
46. Learn to juggle
Ya, this is a silly indoor hobby.
But you have extra time on your hands and if worse comes to worse and you having nothing better to do… Test your juggling skills!
47. Genealogy
Genealogy is the study of family history and lineages. If you've ever wondered about your heritage, now is the time to trace your family roots!
48. Journal
Journaling is all about putting your thoughts on paper. This is a hobby involving the channeling of thoughts.
Often times anxious or depressive thoughts that you normally don't speak out loud. This could be a positive way to release nervous energy, thoughts, and feelings.
49. Cross stitch
If you're needing an indoor hobby that's meticulous… Than cross stitching is it! Cross stitch is a form of hand sewing that involves making x's to make a picture.
Until you've done cross stitching you don't realize just how tedious it is.
However, this indoor hobby is time consuming. You have been warned! It takes a while to complete a cross stitch pattern.
50. Make clay figurines
The evolution of clay has come a long way! It use to be that no one could do anything with clay without the proper equipment like a kiln.
Now, clay can be baked in an oven at home or air dry.
Indoor hobbies like sculpting clay figurines can bring out a creative side of you that's never been seen before!
It's that easy!
Final Thoughts About Hobbies To Do At Home
If you're like me, you're starting to go stir crazy with the amount of time you're spending at home without social interaction.
But instead of constantly scrolling social media, take a break and find your creative side with indoor hobbies.
It's never to0 late to learn something new. Instead of dwelling on the circumstances of having to quarantine, look at the positives…
You now have the time you always wanted to slow life down and focus on learning a new hobby.
Works Cited