Feeling more depressed than usual lately? You're not alone!
According to recent research, depression rates have increased three times over where they were before the 2020 pandemic.
The pandemic is to blame of course! Stay-at-home orders, financial strain (less than $5,000 in savings), and exposure to increased stressors were cited as the reasoning behind increased depression rates.
Worse yet… The study concluded that individuals with preexisting issues with depression were at increase risk of depression during the pandemic.
So are some things to help depression?
Yes! While this list of 50 things to help depression can help make life a little more bearable, it does not replace necessary therapy and anti-depressant medication if that is what you're needing for your depression.
(There is no shame in getting medical help for depression through therapy and medication!)
Disclosure: Bear in mind that some of the links in this post are affiliate links and if you click on them to make a purchase I will earn a commission. Keep in mind that I link these companies and their products because of their quality and not because of the commission I receive from your purchases. The decision is yours, and whether or not you decide to buy something is completely up to you.
50 Things To Help Depression
Take a shower
When depression is at its worst, self-care decreases. It is understandable…
When you mentally feel down on the inside you don't feel motivated enough to take care of yourself.
If you have not taken a shower for over a day, jump in the shower.
You will feel a sense of accomplishment from this simple self-care task.
Video chat with a friends
I don't mean texting or phone calls. You need to visually see someone.
Video chatting with a close friend you can talk to is one of the best things to help depression because everyone needs social interaction.
In the midst of our social distancing era, depression is increasing because we're lacking social interaction with others.
Video chatting is the best way right now to connect with others and feel a sense of normal interaction.
Just remember to reach out to someone who will not judge you or your struggle with depression.
You need someone supportive!
Make a list of things you've accomplished today
When depression hits hard, it's easy to focus only on the negative. The piles of dishes cluttering your sink.
You haven't showered for three days.
But name something you accomplished today! Yes, your house is a mess and you're lacking in the self-care department, however, you did get out of bed today.
You most likely got dressed…
Those are all accomplishments and you should be proud of them!
The littlest positive things you can list are major accomplishments when you're fighting depression.
Set small goals
Instead of setting large goals to try and conquer depression, set smaller ones.
For instance, don't set a goal of cleaning your whole house. Set a smaller goal of doing the dishes.
Setting smaller goals helps you feel less overwhelmed from the start and less guilty if you don't accomplish a smaller task.
Let it out and have a cry
We as humans try and stuff our feelings down and pretend they don't exist.
The problem becomes that if you continue to stuff our emotions down they eventually either erupt in the form of anger or the feelings sit and fester turning into depression.
The best way to alleviate immense sadness is to cry it out.
Those no shame in crying doing to feelings of sadness, anger, or feeling overwhelmed with life.
Odds are… You will cry and might feel better. Like a weight has been lifted off your shoulders.
Keep a gratitude journal
A gratitude journal is all about daily positive thoughts or positive psychology.
It's about focusing on everything in your life you are grateful for.
Everyday name three things you are grateful for. They don't have to be big things.
You can be grateful for the tree outside your window or the smell of hot coffee in the morning.
Take a nature walk
There's something about leaving your house, breathing in the fresh air, and connecting with nature that makes you feel better.
Research shows taking nature walks is found to help mild to moderate depression as well as seasonal affective disorder.
While it's not a 'cure-all' for depression, developing a routine of walking could help slowly improve your depression symptoms.

Ride a bike
Maybe walking is too slow for you! Instead of walking, try riding a bike!
A bike ride through a park or even mountain biking is a great way to raise your heart rate and release endorphins, the feel-good hormone.
Listen to uplifting music
I say uplifting music because some music may have the potential to make you feel worse.
Whatever your genre of music preference is, music has the ability to help you forget about your troubles and lift your mood.
In a review of 9 research studies, psychological therapy was found to be more effective when combined with music therapy for "improving mood through emotional expression."
Read a self-help book
The self-help book industry is a booming business!
It's hard to pick one or even two self-help books to help you reflect on your own circumstances and bring you to a more positive state.
So what do you read?
Honestly, anything you think will help you with your mental health!
Here are some books to consider:
–Learned Hopefulness: The Power of Positivity To Overcome Depression
–The Battle: A Mother's Guide To Conquer Anxiety, Depression, and Self-doubt
–ReNew: Breaking Free From Negative Thinking, Anxiety, and Depression
–The 10 Step Depression Relief Workbook
–How To Be Happy (or at least less sad)
Bake your favorite sweet
While it may seem counterproductive, sometimes a quick indulgence in your favorite sweet can at least make you less sad.
Of course, if you struggle with binge eating this may not be one of the best things to help depression after all.
But try baking your favorite sweets like chocolate chip cookies and treat yourself!
Write down your worries and rip them up
Put pen to paper and list every single thing you are worried about in life.
Then rip up that paper to symbolically stop your obsessive and toxic thoughts about those worries.
Recite positive affirmations
Your thoughts have the power to change your mood, situations, and responses to everyday situations.
If you think positively you will feel less depressed over time.
But trust me when I say that reframing your thinking takes time!
Positive affirmations are I statements that help to transform those negative thoughts about yourself and your situations into positive ones.
Here are some positive affirmations for anxiety and anxious thoughts that can also be used for reframing depressive negative thoughts!
Meditate
The objective behind meditation is to clear your mind to put yourself in a state of peace.
By using mindfulness or focusing on a particular object you can erase toxic thinking and calm down any tension in your body.
Read about the benefits of meditation HERE.
Yoga
Similar to meditation, yoga can help you stretch and release any built-up tension in your body caused by depression.
Acknowledge you're depressed
One of the best things to help depression is to acknowledge you're depressed! There's no shame in admitting there's a problem.
The first step to lessening your depression symptoms is to say "I'm depressed and it's affecting my life."
Listen to a podcast
Podcast centered around reducing the stigma of mental health and depression are essential for anyone experiencing horrible symptoms of depression.
HERE are 7 podcasts about mental health that may be the ray of light you need in your day!
Do a puzzle
Puzzles have the ability to refocus your mind from worrisome thoughts to solving strategies.
Plus, they also keep you mentally fit to help you increase memory and concentration over time.
You don't have to do jigsaw puzzles either… Head over to your app store on your phone and download a binge-worthy puzzle!
Talk to a therapist
Friends are great. But sometimes you need a qualified professional to heal your heart and mind!
Therapists can provide a non-judgmental listening ear and tailor mental strategies to help make you less sad.
Put on makeup
If you're like me… If you don't leave the house you don't put on makeup.
I use to feel like it was a waste of time to put on makeup if no one saw me.
Then I realized putting on makeup raises my self-esteem. I feel better and more confident with makeup on.
Connect virtually with those also suffering
If you don't want to talk to a close friend or therapist, there's always online chatrooms, Facebook groups, and other similar support groups.
Depression has a tendency to make you feel utterly alone. But you're not alone!
Millions suffer from mild to severe depression and they're looking to talk to someone just like you who also suffers from it!
Snuggle with your pet
Have a furry critter you can snuggle? Pets have the wonderful ability to help relieve stress and ease depression simply by petting and snuggling with them. So show your pet some love!
Adopt a pet
If you don't own a pet, you can always adopt a shelter animal.
But only if you are mentally and financially ready to take care of a pet!
A pet may help you feel less alone (especially if you live by yourself) and help give you a sense of pride for taking care of another life.
Recognize your strengths and weaknesses
Everyone has strengths and weaknesses. In fact, we all have strengths and weaknesses in every aspect of our lives.
Listing your strengths and weaknesses allows you to reframe your thinking by also listing the positives about yourself compared to only thinking about the negative things.
For example- My strength is I am an empathetic person. However, my weakness is that I am also overly sensitive.
Read a book
This is different than a self-help book. Personally, I love high fantasy fiction!
It allows me to forget my own depression and focus on a completely new imaginative world.
For the last few years, I've been working my way through Steven Erickson's Malazan Book of the Fallen.
Reorganize your closet space
Closet spaces don't get enough love and attention.
Sometimes clothes, shoes, and even kid's toys get thrown in until you can't close the door anymore.
Go through all your closets and make sure clothes are hanging up and shoes are neat to create a less chaotic space in your life.
Declutter your living space
The more things you buy do not bring happiness.
In fact, the things you own will begin to clutter up your life. Maybe it's time to throw some things out.
Declutter your living space by creating three piles: a keep pile, a donate pile, and a throw-away pile.
Exercise
Harvard Medical School found that exercise is an effective all-natural treatment for depression, with some people actually reporting that exercise alone improved their depression.
(However, I do believe this is for mild depression or those who do not need depression medication.
Exercise alone does not work for everyone with depression).
According to the assistant director of psychiatry at Harvard, Dr. Miller, "Exercise supports nerve cell growth in the hippocampus, improving nerve cell connections, which helps relieve depression."
So if you are feeling more depressed than usual, one of the best things to help depression is to exercise!
While exercise may be the last thing you want to do, start off with a simple exercise activity.
Then, slowly builds-up to longer spurts of time. You can also incorporate small sets of exercise in your day.
For example: 10 pushups (morning); 15 jumping jacks (by noon); 20 sit-ups (evening). Gradually increase the number and amount of sets and change up the exercises with something more challenging.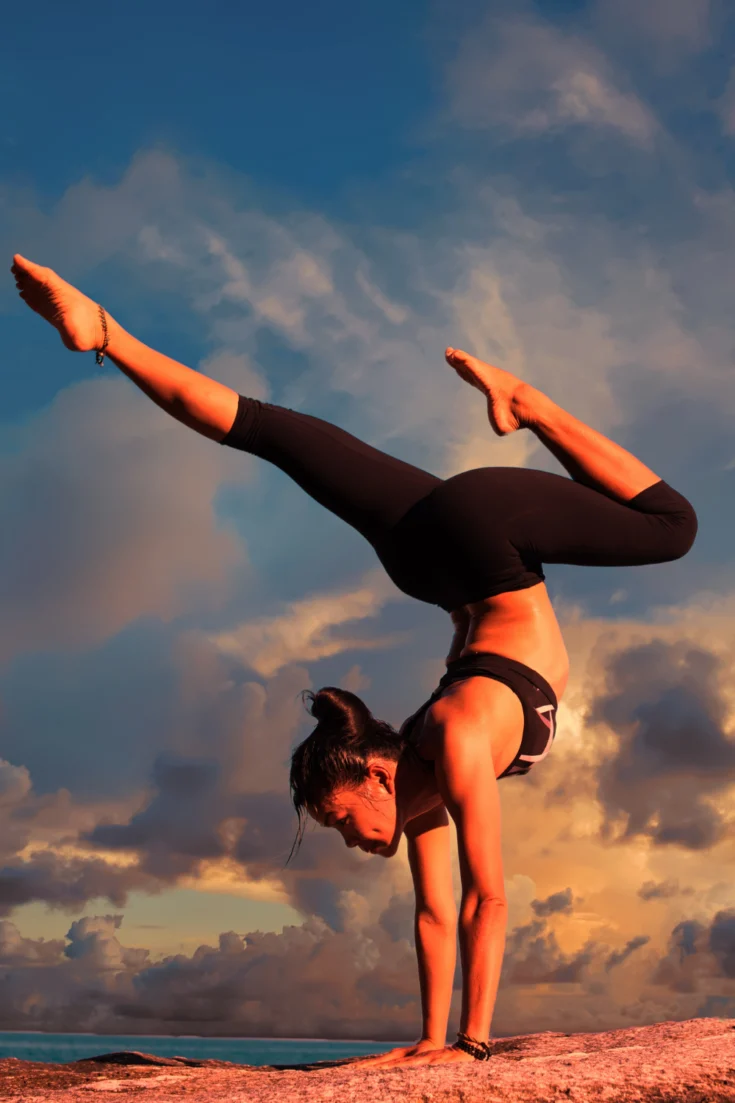 Write positive notes and leave them around your house
This is similar to positive affirmations, but the positive notes do not need to be "I" statements to help reframe your thoughts.
Instead, write fun positive notes to put a smile on your face throughout your day!
-You're looking great, beautiful!
-Keep moving forward!
-You have an amazing smile!
Sing a song
Singing is a part of music therapy that is beneficial for relieving depression.
Although it won't completely get rid of a terrible mood, it will at least alleviate it temporarily. So go ahead and sing your favorite song!
Dance
Dance falls under the category of music therapy as well as exercise.
Sometimes the best way to dance is to dance when no one is around, that way you don't feel judged for doing the robot!
Paint or draw what you're feeling
While it's helpful to a therapist to guide you through art therapy, it is not required.
You can sit down and channel your inner Picasso by painting or drawing how you are feeling.
Find a creative hobby
It's amazing how many people go through life and don't have a hobby!
I consider a hobby a creative way to express myself and it helps my mental wellbeing.
If you're looking for a hobby, I have 50 indoor hobby ideas for you to try!
Pamper your skin with a facial
Self-care goes beyond showering. You need to take time to refresh your skin.
Even a 10-minute facial will help you feel better about yourself.
Give yourself a pedicure
Instead of a facial, you can always do a pedicure! Sometimes your toes get neglected and a pedicure is another way to pamper and take care of yourself.
Plus, a pedicure could shift your focus away from your worries.
Take a bubble bath
Continuing with the self-care routine… Try a bubble bath! But don't forget a glass of wine and a book!
Use a weighted blanket
A weighted blanket has changed my life! Through deep pressure touch or grounding, I am able to fall asleep faster and ease panic attacks naturally.
But did you know weighted blankets help to ease depression symptoms?
Research shows grounding can lower cortisol levels, also known as the stress hormone to help depression symptoms.
Weighted blankets also trigger the release of dopamine and serotonin to further decrease symptoms.
Gardening
Personally, I hate gardening. However, many people find gardening to be relaxing.
Amazingly, getting your hands dirty in soil promotes the release of serotonin and dopamine and boosts your immune system.
Order in your favorite meal
Splurge a little and order in from your favorite restaurant.
Better yet, get in some exercise and take a walk to a nearby place you love and get an order to go.
Learn something new
A new language… New knowledge about a historical event or place.
It doesn't matter what you learn as long as it's something new.
You will find by learning something new you will feel proud of yourself and a little smarter too.
Watch 'trash TV'
Do you ever feel like your life is horrible and no one else's life can possibly be worse?
I've been there before, and a simple trick I have to change my perspective on life is to watch trash TV.
Yes, when depression creeps up on me I watch an episode of Jerry Springer and I immediately cheer up.
By watching Jerry Springer AKA 'trash TV' I realize while I might be having a bad day, the guests on Jerry are having it way worse.
Color
Break out your coloring pencils and an adult coloring book to create a beautiful picture!
Watch cute animal videos
Is there nothing baby animal videos can't cure?!
Watching cute puppies, kittens, or even baby pandas have a way of lifting you out of a depression funk.
Cook your favorite comfort food
Comfort food has a way of making you feel, well, comforted.
That's because comfort foods are typically indulgent type dishes that give us happy feelings.
Certain foods even have the ability to trigger memories. So pick a food-related to a happy memory!
Buy an indoor plant
Not only do indoor plants help purify the air, but research also shows they have the ability to produce a calming effect and improve mood.
Some household plants known for stress-reducing properties include:
-Aloe vera
-Bamboo Palm
-Basil
-Chinese evergreen
-Succulents
Buy a new outfit
When is the last time you bought a new outfit? Probably before the pandemic and the world started staying home all the time.
Even though we work from home, doesn't mean your wardrobe couldn't use an update.
A new outfit may help ease a mild bout of depression, but it is not a 'cure-all' for it. Just something to make you feel good about yourself.
Try essential oils
Essential oils have the power to help ease multiple symptoms of whatever ails you.
Oils are not a replacement for anti-depressants but research shows they can help you sleep and enhance mood.
There is a big debate on how to use essential oils for helping symptoms.
Some research suggests essential oils used in aromatherapy massage compared to being inhaled.
Essential oils known for improving depression include:
-Lavender
-Bergamot
-Sage
-Jasmine
-Yuzu

Create a vision board
A vision board is about combining inspirational pictures, words, affirmations, and quotes for making your dreams a reality.
A vision board is one of the best things to do for depression! It's a daily reminder of what you want to accomplish in your life with relationships, work, and mental health.
Cut out pictures, words, and phrases from magazines to put together on a corkboard or wall.
Eat something healthy like a salad or smoothie
Depression does impact your diet. While some people choose to overeat, others stop eating. If you fall into the category of people with depression who overeat or eat unhealthy food more often than not, it may be time for a change.
Change the way you eat and help yourself feel better by replacing a meal with a healthy salad or smoothie.
Hit a pillow
Quite often, repressed unexpressed anger can display itself in the form of depression.
If you're feeling irritable or stressed in any way, try hitting a pillow as hard as you can for a couple minutes.
You will be amazed at how much this does for relieving overall stress!
Final Thoughts
If you've been suffering from depression in any form from mild to severe, please know you're not alone!
The entire world is suffering from feelings of hopelessness about the circumstances of the world and it's not your fault.
The top 50 things to do for depression may help relieve some of your depression symptoms along the way through this chaotic journey called life.
While they are not a "cure-all," they may provide you some relief and distract you long enough to enjoy the small things in life again.
Works Cited
Prevalence of Depression Symptoms in US Adults Before and During the COVID-19 Pandemic | Depressive Disorders | JAMA Network Open | JAMA Network