Are you looking for ways to earn money from home for your family?
As a stay-at-home mom, you may not feel like you are qualified to do anything to make money without leaving your home.
However, you already possess many skills needed to earn money without leaving the house or needing to find childcare for your kids!
These 7 easy ideas to make money at home are perfect for a stay-at-home mom just like you!
Disclosure: Bear in mind that some of the links in this post are affiliate links and if you click on them to make a purchase I will earn a commission. Keep in mind that I link these companies and their products because of their quality and not because of the commission I receive from your purchases. The decision is yours, and whether or not you decide to buy something is completely up to you.
7 Ideas To Make Money At Home
Selling Unused Items
Look around your home. Is your living space becoming overly crowded with items you no longer need or use?
Decluttering your home and selling things online may be one of the quickest ideas to make money at home for moms.
Facebook Marketplace makes it easy to connect with buyers near you that may want your unused items.
While Facebook Marketplace is a great way to make some quick cash, please always be careful in regards to sales you make in person!
It's always the best practice to have someone with you during an in-person transaction and in a public place!
Other places to sell used items include:
-OfferUp
-LetGo
-Poshmark
-eBid
Reselling items can become a full-time business for stay-at-home moms. After some research, you may find ways to buy online and resell again for profit. Just look for the biggest sales you can!
Check for wholesale liquidation of stores within driving distance of you.
They may have merchandise you would find at larger stores but for a much lower cost.
Many liquidation centers sell products by the pallet at a huge discount. These items can then be resold online.
Word of mouth is powerful. Once your friend sees you successful at selling goods online, they will tell their friends who also have household items that are wasting space.
Babysitting
If you already have small children at your home, babysitting can be an easy moneymaker for you.
You can first offer to babysit children of family members and close friends. Then, advertise your babysitting services to Facebook groups and on your Facebook page.
Depending on their ages, you can set the price hourly or weekly for your babysitting rates.
Of course, babies tend to cost more because of diaper changes and feedings whereas older children are more independent.
Babysitting for those in your community brings a sense of community support, and can make life-long friends for your kids.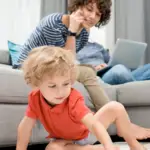 Virtual Assistant
One of the easiest ideas to make money at home is to start offering virtual assistant services. Even with limited skills, you can still learn how to become a virtual assistant (VA).
Virtual assisting is all about doing the busy work for business owners who need certain tasks outsourced.
VA's play a crucial role in a professional business team because they do all the little tasks behind the scenes.
Virtual assistants are paid to:
-Check emails
-Write content
-Share social media posts
-Update product pages and social media pages
-Take pictures and create social media promotion graphics
-And so much more
This type of work-from-home opportunity is perfect for stay-at-home moms because you can choose your own hours and the number of clients you want to take on.
Plus, you can negotiate rates with clients as well as offer specific services depending on your expertise.
None of these tasks are particularly difficult. If you already check your email and post on social media regularly you have what it takes to become a VA.
Some clients may even see the budding potential in you and offer to train you as well if you are unfamiliar with certain tasks.
Blogging
Starting a blog is a long-term plan for creating a steady stream of income. Think of blogging as a marathon, not a sprint.
However, investing your time in a blogging career comes with many rewards. There are many bloggers earning thousands each month with advertising and affiliate links, sponsored posts, writing services, and virtual assisting work as well.
Each blog takes off at a different rate depending on what your niche is and the amount of promotion and quality content you create.
It's best to start setting small goals with a blog and eventually keep adding new bigger goals to accomplish.
You won't make a part-time or even full-time income overnight. There's a lot that goes 'behind the scenes' of blogging and many new bloggers become overwhelmed and discouraged when even after 2 years they are not gaining a consistent part-time income.
Photography
If you have an eye for seeing life around you and capturing beautiful moments.
You can create stock photos to sell online, which website owners and other artists can purchase a license for use.
The best-selling photos are pictures of:
-Food
-City landscapes
-Nature
-Travel
-People working in business settings
-Tools
-Photos of people in general
You will earn money each time a stock photo is licensed. From there you can even create a photography business to offer photography portraits to clients in person.
Some websites to sell your photos include:
-Adobe stock
-Shutterstock
-Alamy
-Etsy
Selling on Etsy
Etsy is a great place for stay-at-home moms to earn money! It doesn't work well for the used items unless they are considered vintage, but if you are creative in any way, you can sell on Etsy!
The best thing about Etsy is that people will pay more for handmade and unique items.
If you are good at crafting, you can make an income from home with Etsy.
If you hate to craft, but still can create digital designs, you can design printables online to sell. This means making money with no physical inventory to ship out!
Teaching a Course
Teaching online is easier than ever! If you have a background in teaching and the qualifications you can teach or tutor students online.
Even if you were never a teacher, you can still teach others a specific skill set or hobby you know well and enjoy.
Online platforms like Udemy, Teachable, Podia, and more allow you to create written or video courses on almost any subject like baking, fitness, home organizing, and more.
The money you earn from each student you enroll is then income in your pocket!
Depending on how popular your course is, this is one of the best ideas to make money at home because it can create a steady monthly income.
Final Thoughts About Ideas To Make Money From Home
There are many ideas to make money at home for stay-at-home moms.
These seven are only a few ideas out there! Think outside the box and get creative with your ideas to make money at home.
There are many opportunities out there to make money online.
It can also take you from earning a few dollars to earning a full-time income!