Halloween is my favorite holiday! I love the decorations. The creativeness of haunted houses.
Best of all, I love Halloween movies.
While I prefer all the guts and gore and classic horror movies… I am a mom now and I also have to reserved my scary movie binge for when the kids fall asleep.
Since becoming a parent, I watch and love kid friendly Halloween movies!
Now, I've rounded up some of the best kid friendly Halloween movies I know and love to share with you!
Here are 65 plus Halloween movies to watch this October!
Kid Friendly Halloween Movies
Double Double Toil And Trouble
This remains one of my favorite Halloween moves to watch each year! Mary-Kate and Ashley Olsen star in this underrated movie to take down an evil witch and free their great aunt from a curse.
Scooby-Doo And The Boo Brothers
An old, but amazingly cute movie! Scooby and the gang find themselves at a haunted plantation with the ghostly Boo Brothers who haunt it.
Earnest Scared Stupid
Another classic and favorite kid friendly Halloween movie of mine! Earnest unknowingly (and stupidly) release an evil curse upon the town by unleashing an ogre.
Hocus Pocus
Everyone's heard of the Sanderson Sisters! As time goes on it remains one of the best kid friendly Halloween movies to watch and only grows with time!
If you're in need of some Hocus Pocus Halloween Decor, CLICK HERE!
Casper
Casper The Friendly Ghost is a lonely ghost only wanting a friend! He get's one when Kat and her father move into the house to clear it of spirits.
Monster House
Three kids try to uncover the secrets of the monster house across the street that seems to eat everything that enters the property, including children!
Frankenweenie
A boy is heartbroken that his dog dies and attempts to bring it back to life with a science experiment.
Corpse Bride
A betrothed man recites his wedding vows in a cemetery accidently raising a women from the grave who believes they are to be married.
Spooky Buddies
Spooky Buddies follows the adventures of Golden Retriever puppies through a haunted mansion during Halloween.
Spookly The Square Pumpkin
This kid friendly Halloween movie is perfect for preschool aged children! The movie tells the story of a square pumpkin who only wants to fit in with his round pumpkin friends to participate in Halloween games.
Pooh's Heffalump Halloween Movie
Another perfect and one of the best kid friendly Halloween movies to younger children under 5. Follow Pooh and the gang on an adventure through the Hundred Acre Wood for Halloween.
Halloweentown
Marnie and her family help their good-witch grandmother (the late great Debbie Reynolds) to save Halloweentown from evil forces.
Hallweentown II
Marnie and her family return to Halloweentown to face their evil nemesis from the first movie once again.
Halloweentown High
The students of halloweentown begin school in the mortal world for this fun and classic kid friendly Halloween movie.
Return To Halloweentown
The fourth installment of the Halloweentown series. Marnie finds herself at Halloweentown University and gains a friendship with a fellow student to cause mischief on campus.
Under Wraps
This is one of the best Halloween movies to watch this year! It involves three teenagers who are trying to reunite a 4,000 year old mummy with his lost lover.
Zombies
Zombies is a musical about Zed, a zombie high-schooler who falls in love with a human cheerleader in a school where zombies are not accepted.
Zombies II
The sequel follow Zed and Addison as they continue their relationship through the summer and cheerleading camp only to find themselves faced with a new challenge for the new school year- Werewolves!
The Nightmare Before Christmas
A classic Tim Burton movie that remains a stable movie for both Halloween and Christmas time! Jack Skellington, the pumpkin king finds himself bored with spooking the real world every Halloween. That all changes when he get propelled into Christmastown with Santa!
The Haunted Mansion
A real estate agent and his family go on vacation only to stop off at a haunted mansion that needs help breaking its curse.
Twitches
This story follows the tale of two teenager twins discovering their magical powers and trying to stop evil.
Twitches II
The story continues with two teen witches Tia and Tamera Mowry as they try to live normal while trying to put together the pieces of their past and fight darkness.
Don't Look Under The Bed
This remains one of my favorite kid friendly Halloween movies of all time! Don't Look Under The Bed spins the tale on a classic child's fear of being scared of what's under the bed.
Instead of scary monsters though a teen finds a prankster bogeyman who is framing her for his mishaps.
The Adventures Of Ichabod And Mr. Toad
This 1949 classic from Walt Disney Studios is a two-part animated film featuring adaptations of The Wind in the Willows followed by The Legend of Sleep Hollow.
Mostly Ghostly (Who Let The Ghosts Out?)
Based on the book series by R.L. Stine, an 11-year-old finds a hidden tunnel that harbors an evil spirit and ghosts who want to control the physical world. However, they are only allowed to try on one night Halloween!
Hotel Transylvania 1, 2, and 3
Odds are I don't have to tell you about the plot sequences of these fantastic kid friendly Halloween movies. The name speaks for itself! These Adam Sandler movies turn children's fairytales and nightmares of monsters into lovable characters children everywhere can relate to.
Girl vs. Monster
This 2012 movie follows the heroic efforts of a teenage girl to undo her mistake of release a dangerous monster that is intent on harming her parents.
Don't worry, it's not as scary as it sounds!
Phantom Of The Megaplex
Teenagers working at an old cinema try to find the source of all the strange and spooky occurrences that keep taking place.
Coco
While it's not technically a Halloween movie, Coco immerses children into the Spanish culture and tradition of Day of the Dead and following Miguel's quest to get back to the human world.
Mom's Got A Date With A Vampire
This adorable story uses comedy for a funny take on the dating world of single mothers. Follow her children as they try to uncover the truth about their mom's new date who they suspect is a vampire.
The Scream Team
Richard Carlyle returns to his home town when his father dies and discovers the family home is really haunted with spirits.
Mr. Boogedy
Mr. Boogedy first appeared the segment "The Wonderful World of Disney" back in 1986 and is a classic Halloween movie for the ages. The story follows a novelty salesman who moves his family to a new home only to find that it's haunted by 300 year old ghosts.
The Bride Of Boogedy
The magic doesn't just stop with Mr. Boogedy. This equally worthy sequel continues the story of 300-year-old ghosts haunting a house with one added addition: Bride of Boogedy
Wizards Of Waverly Place: The Movie
This movie adaption is taken from the Disney series and follows the adventures of a young wizard who must undo an accidental spell.
Invisible Sister
When a science experiment goes wrong, a teenager accidently makes her popular sister invisible and has to find a cure for invisibility.
Toy Story Of Terror
Follow Woody, Buzz, and the rest of the gang as they stop at an overnight spooky hotel with Bonnie.
Monsters Inc.
Dive into the monster world and learn how monsters power their world through gathering the screams of children. But things go horribly wrong when a "toxic" child is accidently thrust into the monster world.
Monsters University
Technically the prequal to Monsters, Inc., follow Mike and Sully as they meet and become best friends in college.
Blackbeards Ghost
This 1968 Disney classic tells the story of Blackbeard's Inn who is run by the descendants of Blackbeard. But they struggle to hold onto their hotel as local mobsters seek to destroy their business.
Goosebumps I and II
An adaption of R.L. Stine books, these two movies follow the Goosebumps series books with multiple characters who escape the pages and terrify the world around them.
Addams Family
A 90's classic, this first movie introduces audiences to the Addams family who are in search of their missing family member, Fester.
Addams Family Values
Once Fester has returned to the Addams family, more problems arise for them as a "Black widow" seeks to marry and kill Fester Addams for his money.
The Witches
Recently remade, the classic 1990's original follows the story of a boy who is turned into a mouse after he accidently stumbles into a witches convention.
ParaNorman
ParaNorman follows the story of Norman who is able to communicate with the dead.
Happy Potter 1-9
I shouldn't have to tell you about the Harry Potter series. The name speaks for itself. But the movies follow Harry Potter as he moves through each year of school at Hogwarts and battles he who must not be named.
Wallace And Gromit: Curse Of The Were-Rabbit
This 2005 animated release is the first feature film for Wallace and his dog Gromit. Both characters end up landing a job as pest control and are in charge of stop a giant rabbit from eating the town's crops.
It's The Great Pumpkin Charlie Brown
This television show debuted in 1966, but has remained a classic throughout the years. Charlie Brown's friend Linus is on a mission to spot the elusive Giant Pumpkin who only rises on Halloween night to fly and bring toys to children who believe.
A Witches Ball
A Witches Ball tells the story of Beatrix as she joins the witches gathering on Halloween for the first time.
The Dog Who Saved Halloween
From the series that brought you The Dog Who Saved Christmas, this movie tells the adventures of a talking dog as he faces a challenging scary night on Halloween with haunted houses and creepy neighbors.
A Babysitters Guide To Monster Hunting
A fairly new movie on Netflix, A babysitters Guide To Monster Hunting follows a high schooler who is recruited to a secret babysitter society as she tries and recaptures the boy she's babysitting from the Boogeyman.
House With A Clock In Its Walls
Starring Jack Black, this movie tells the story of Lewis who moves in with this uncle only to find things are not what they seem within the house. As weird noises and events occur, Lewis finds out the hard way what his uncle and the home are all about when he accidently unleashes the dead to reveal of world of deadly curses, witches, and warlocks.
Little Monsters
A classic 80's movie… A child is propelled into the netherworld of monsters living under his bed and now must find a way back to the human world before becoming a monster himself.
Super Monsters Save Halloween
This Netflix movie is perfect for toddlers. The Super Monster team use their powers to get their neighborhood into the Halloween spirit.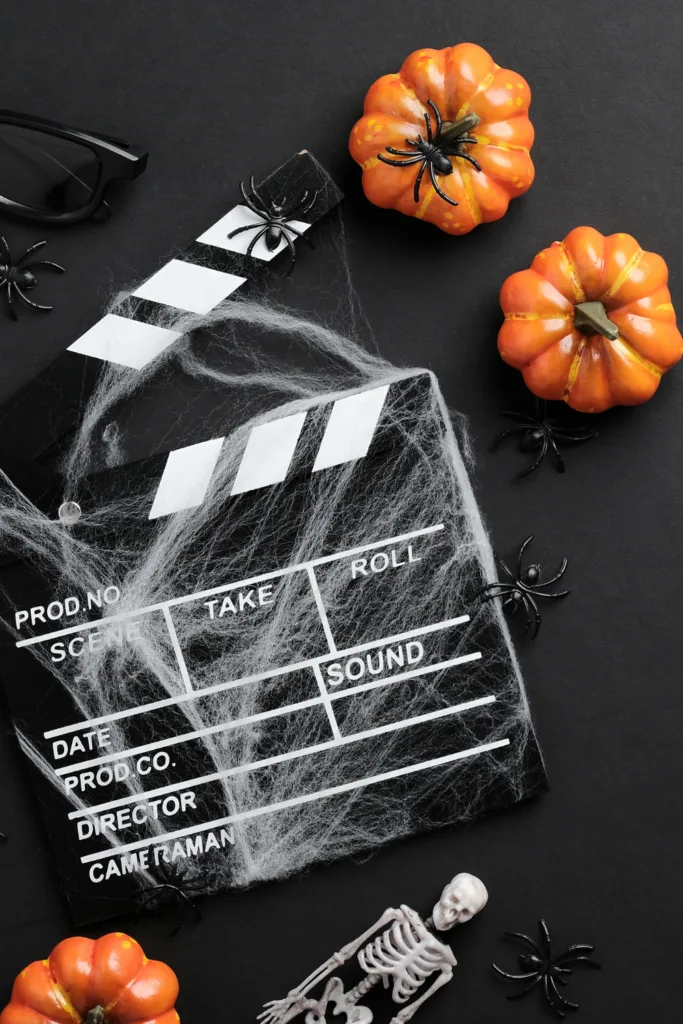 Tower Of Terror
An oldie, but a good. This Disney movie tries to solve an old mystery occurring at the Tower of Terror in which five people disappeared inside the hotel elevator on Halloween in 1939.
Monster Family
Watch how the Wishbone family takes a family trip to reconnect with one another only to become cursed on Halloween and turned into monsters.
Casper Meets Wendy
Casper the friendly ghost and Wendy the Good Little Witch team up to take down a menacing warlock at the supernatural resort.
Paw Patrol Halloween Heroes
What kid doesn't love Paw Patrol!? This TV show is full of fun and spooky stories with themes including haunted ships, ghosts, scary cabins and corn mazes.
Mickeys Monster Musical
This TV show first appeared on Disney Junior and is perfect for children 5 and under. It mixes music with problem solving and educational concepts with a cute Halloween theme.
Room On The Broom
Based on the beloved children's book, this half hour animated film tells the tory of a kind witch and her collection of animals who join her on her broom for a night flight.
Bedknobs And Broomsticks
This classic Disney movie from 1971 features both animation and live action and of course the incredible Angela Lansbury who is a witch in training and must travel to London for witchcraft training only to find herself helping to defeat Nazi forces during World War II.
Final Thoughts
On this list of kid friendly Halloween movies, there's a movie no matter the age of your children. There's something for everyone one.
And let's be honest, kid friendly Halloween movies are not just for kids. I watch plenty of the movies on this list every year during October to help get myself into the Halloween spirit.
Works Cited
36 Essential Kids Halloween Movies << Rotten Tomatoes – Movie and TV News
55 Best Kids' Halloween Movies and Family-Friendly Spooky Films (womansday.com)