Do you have a family member with autism or want to support autism awareness?
Support those you love by making this beautiful autism wreath!
As a mom to a son with autism, awareness for autism is important!
By spreading awareness through simple acts like making an autism awareness wreath you start a conversation about the diagnosis.
Individuals with autism are still misunderstood and many still fight for equal opportunities as do their loved ones.
When you display autism awareness items you help others become aware of the signs, treatments, joys and difficulties of loving someone with autism.
Disclosure: Bear in mind that some of the links in this post are affiliate links and if you click on them to make a purchase I will earn a commission. Keep in mind that I link these companies and their products because of their quality and not because of the commission I receive from your purchases. The decision is yours, and whether or not you decide to buy something is completely up to you.
Why Make An Autism Wreath?
It's simple… By making an autism wreath you are creating awareness and future conversations about autism spectrum disorder.
Since 1999, the puzzle ribbon has represented those on the autism spectrum and those affected by the disorder in one form or another.
Rainbow colors are used to represent how diverse autism is from one person to another.
Every person with autism spectrum is unique in their own way.
Although they may exhibit some of the "classic" symptoms of autism, the severity of their symptoms and the intellectual abilities varies from one individual to another.
It's so important to start a conversation about autism! You start a conversation by displaying autism symbols and rainbow colors.
When people see these symbols they may begin to ask questions about…
What autism is
How autism affects individuals
How it affects family members caring for those with autism
The symptoms associated with autism spectrum
How to identify the early signs of autism in children
How the disorder is managed
If you are affected by autism spectrum disorder by having the diagnosis or caring for a loved one or friend with autism, then you are perfect for sharing your support and love by making an autism wreath!
Best of all, April is Autism Awareness month. The perfect month to display it!
How To Make A Rainbow Puzzle Autism Wreath
For this autism wreath you will need the following supplies:
A 10 inch Stryofoam wreath
Roll of red tulle
Roll of yellow tulle
Roll of light blue tulle
Roll of dark blue tulle
Roll of pink tulle
Roll of purple tulle
Roll of orange tulle
Wooden letters (A-U-T-I-S-M)
Craft scissors
Steps For Making An Autism Wreath
Step 1: Cut the tulle
From the supplies list above you will see you need seven different colors of tulle.
Red, yellow, light blue, dark blue, pink, purple, and orange tulle.
Start by grabbing one roll at a time and cut 10 to 12 inch strands. Don't worry if the strands look long.
You will be tying around the foam wreath and then cutting the extra length later!
Continue to cut each of the rolls of tulle colors on at a time and separate each color into piles.
Step 2: Begin Knotting The Tulle
For this step you will take one piece of tulle at a time starting with red.
Fold the strand of red tulle around the Styrofoam wreath (making sure there's an even amount on both sides of the foam wreath).
Now, tie the tulle in a tight double knot. Remember, don't worry about the extra tulle hanging off!
Step 3: Alternate Colors
Since you knotted the first piece of red tulle, move on to the next color in the rainbow sequence (orange) and double knot it.
Continue the rainbow pattern one piece at a time (red, orange, yellow, light blue, dark blue, and purple).
Once you have filled the wreath completely, take your crafting scissors and cut off the access tulle to the desired length you want.
Step 4: Paint The Wooden Puzzle Pieces
Now it's time to paint the wooden puzzle pieces. I found the perfect color for this is metallic teal paint.
I happen to have this paint already and it paired great with the rainbow tulle colors.
To paint the wooden pieces I highly recommend placing a piece of paper or cardboard behind the wooden pieces when painting!
Both the sides and one flat surface of the puzzle piece need to be painted.
I did this by first painting the flat surfaces, letting the paint dry, then painting the sides.
Once the puzzle pieces are completely dry it's time to move onto the wooden letters!
Step 5: Apply Glitter To The Wooden Letters
For step five you want to sift through the alphabet package of wooden letters and gather the letters to spell A-U-T-I-S-M.
Grab you crafting paint brush and craft glue and apply a small amount of glue to each letter.
Brush the glue across each letter. Now, apply a generous amount of dark blue glitter on the letters.
This is best done with a piece of paper underneath all the letters!
Once you've applied the glitter, lift the wooden letter up and allow the access blue glitter to fall onto the paper. Allow the letters to dry.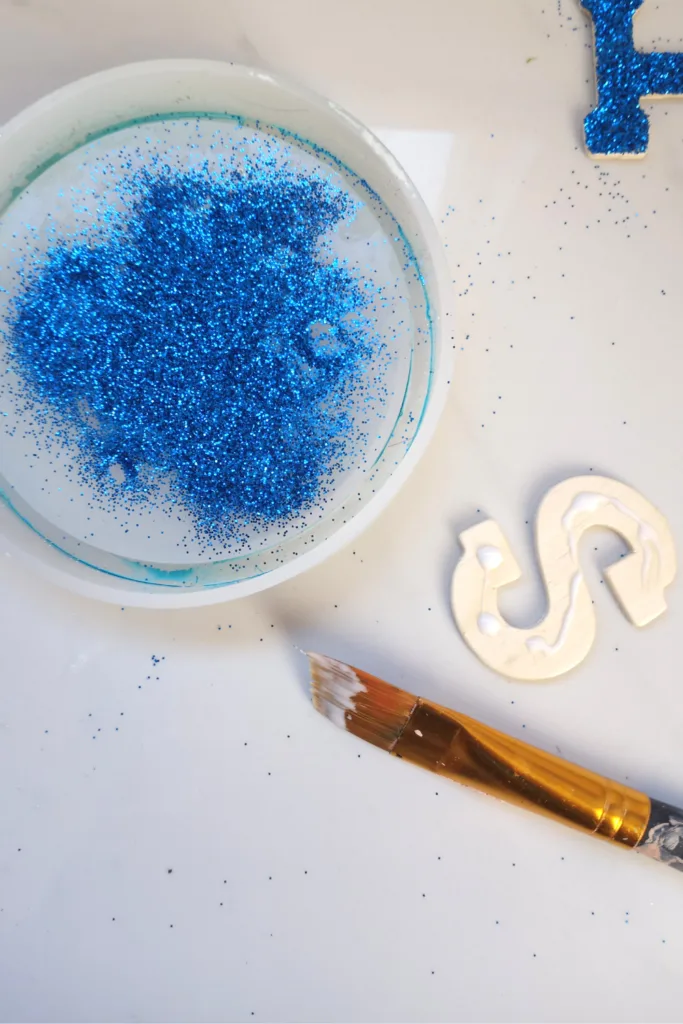 Step 6: Glue The Letters
When the glittered autism letters are dry, it's time to use your hot glue gun to glue them to the wooden puzzle pieces.
Since you have six letters for autism, then glue one letter a piece onto a puzzle piece.
Step 7: Seal The Puzzle Pieces
Now place the puzzle pieces (with the letters) onto cardboard or paper and seal with a clear acrylic sealer.
Step 8: Glue The Puzzle Pieces To The Wreath
This is the final step in the making of this autism wreath!
All you need to do is arrange the puzzle pieces around the wreath the way you like them then hot glue each on and wait for it to dry.
I found it best to spread the puzzle pieces around the wreath instead of close together.
When you are sure the puzzle pieces are securely attached to the wreath, display it from a large window or your front door.
Final Thoughts
Autism is a complicated disorder with different degrees of symptom variations.
For most, autism is just a disorder that doesn't affect themselves or anyone they love.
For people like myself, autism is a cause that means the world to me because I care for my son with severe autism.
When a community displays autism symbols it helps spread autism awareness.
Whether you are affected directly or indirectly by autism, autism affects 1 in 59 individuals.
But those are the cases that have only been diagnosed.
There are adults who are just now being diagnosed as awareness is being spread.
Help do your part during April of Autism Awareness month and help spread the word about autism spectrum disorder by making this autism wreath.
Works Cited
The Autism Awareness Ribbon – Autism Society (autism-society.org)
How Many People are Diagnosed with Autism in the U.S. (tpathways.org)